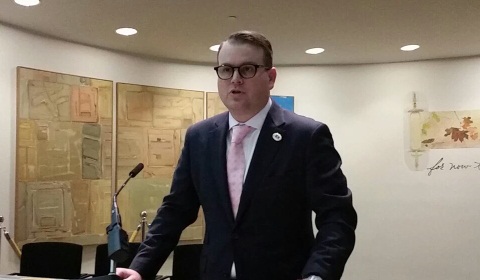 On December 29th, a Jewish family in Hastings on Hudson in Westchester awoke to find swastikas spraypainted on their home. In response, hundreds of community members rallied last night at Temple Beth Shalom in a show of support and to condemn anti-Semitism and bigotry. ADL New York Regional Director Evan Bernstein stood with community leaders, noting "this town won't be defined by an act of hate."
Thank you Ari Wallach, Mayor Peter Swiderski, Rabbi Eddie Schecter, Superintendent Roy Montesano and the good people of Hastings on Hudson for your passionate commitment to fighting all forms of prejudice.
There is always work to be done. If you are interested in helping us combat bias, bullying and hate join our #50statesagainsthate initiative by clicking here.
To learn more on the story check out the  News 12 Westchester piece.