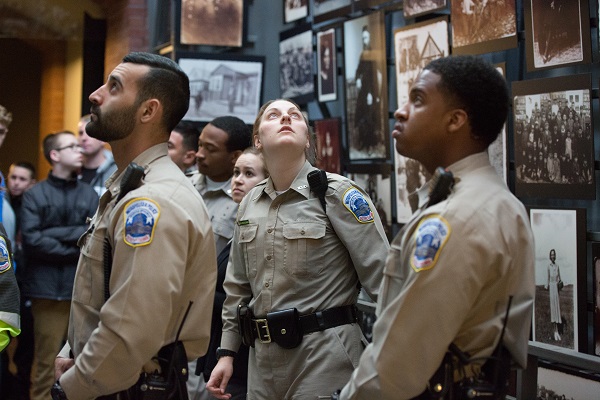 ADL is recognized as the nation's top non-governmental law enforcement training organization on issues of implicit bias, hate crimes, extremism and community security. ADL New York/New Jersey leads many programs designed to keep vulnerable communities in our region safe and improve trust between law enforcement and those they serve. 
ADL works with law enforcement in several ways, including assisting them to protect people and communities from hate, extremism and terrorism; increasing their understanding of their role as guardians of the Constitution and individual rights and liberties; and challenging them to look at the implicit biases that they bring to their work and to treat each person with dignity, respect, fairness and compassion. 
Our specific trainings include: 
Advanced Training School in Extremist & Terrorist Threats

: A three-day course held in Washington, D.C., which provides law enforcement with the expertise, information and resources needed to combat threats.

 It educates officials on the full spectrum of domestic and international terrorist threats, tactics and movements, as well as the evolving nature of terrorism and how to prevent it.

 
Law Enforcement and Society: Lessons of the Holocaust:

 Through the lens of the Holocaust, this training shows what can happen when law enforcement personnel do not uphold democratic principles. 

The full-day program examines the history of the Holocaust and its lessons for law enforcement today, as well as the relationship between law enforcement and the communities they serve. This nationally acclaimed training program included 

2

50

 Nassau and Suffolk County police officers last year.

 

Training on Managing Implicit Bias: 

The program is designed to reduce the influence of bias in interactions and decision making.

 Managing Implicit Bias helps law enforcement participants understand the science, key terminology and concepts behind implicit bias and recognize it in their work.

 

Law Enforcement Advisory Council: 

This council of 

30 high-ranking law enforcement officials from New York and New Jersey

 meets each fall to be briefed by ADL on issues critical to their work. 

 
By the numbers:  
1,280

 

law enforcement officials in New York and New Jersey were trained in recognizing and preventing extremism in 2018.

 

1,593

 officials from law enforcement agencies across New York and New Jersey were trained in managing implicit bias, Holocaust education and recognizing hate crimes.

 
For more information on law enforcement training, email Rachel Grinspan at rgrinspan@adl.org.