Signature Synagogue Program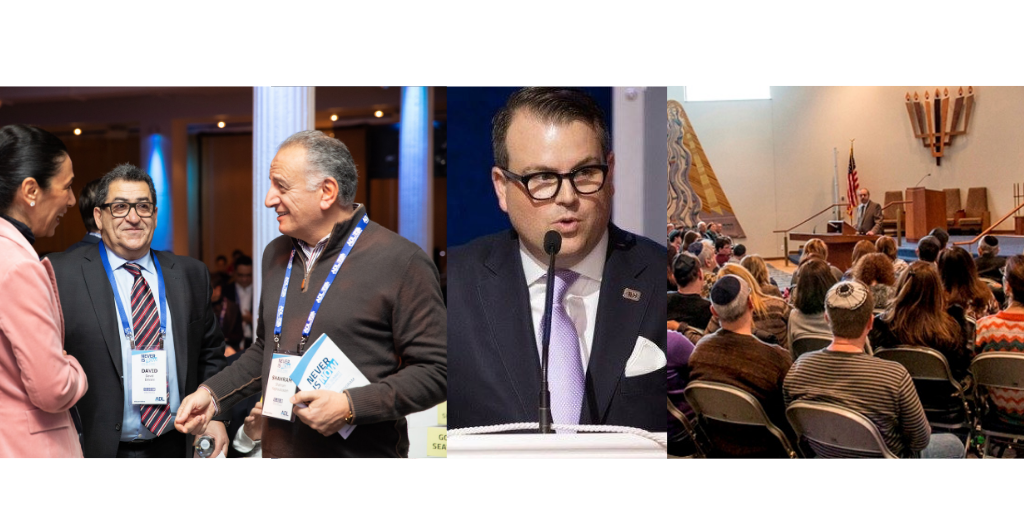 Click here to register your synagogue or request more information.
ADL Signature Synagogues are a network of engaged congregations committed to fighting anti-Semitism and all forms of hate.
Signature Synagogues receive direct access to ADL programs, resources and learning opportunities, creating a central location for community education and taking action. Members will become ambassadors for ADL at a critical time when standing up against anti-Semitism and hate is more important than ever.
Designed to encourage congregation-wide commitment, the program activates members into long-term engagement with ADL, and will culminate with recognition for implementing the programmatic components listed below. Contact us to learn more and register your synagogue today!
Expectations
Signature Synagogues will:
1. Nominate at least one ADL community liaison to serve a one-year term. The liaison(s) will be the main point of contact to ADL in addition to synagogue clergy and staff. Liaisons should be equipped to take on this responsibility in terms of availability and willingness to encourage participation in ADL activities at the synagogue.
2. Host at least one Words to Action (WTA) workshop. WTA workshops are interactive discussion-based programs focused on providing youth and young adults with a heightened understanding of historical and contemporary anti-Semitism. WTA programs are led by trained ADL facilitators, utilize realistic case studies of anti-Semitic incidents, and equip participants with effective tools for taking action. Programs are 1.5 -2 hours long and customized for all age groups.
3. Organize a "Never Is Now: Summit on Anti-Semitism & Hate" steering committee. ADL's signature annual event, Never Is Now is a one-day conference focused on understanding contemporary drivers and dynamics of anti-Semitism. The steering committee can be comprised of volunteers who are activated and enthusiastic about sharing the mission and work of ADL and should strive to organize a delegation of 10+ members to attend Never Is Now. Signature Synagogue members receive an exclusive discounted ticket rate.
4. Host an ADL Expert Speaker. Synagogues enrolled in the program should organize at least one ADL speaker event to provide detailed insight into one specific topic. Speaker presentation topics can include extremism, anti-Semitism, international affairs, cyberhate and/or additional topics related to our core areas work.
5. Hold a training on how to be an ADL Ambassador. This training will serve as "ADL 101" for the community. An ADL staff member will make a presentation on the core areas of ADL's work, including education, research, policy, and advocacy and will emphasize ways volunteers can get involved.
Synagogues that sign on to participate in this program should be committed to fulfilling these responsibilities within a one-year period of time. 
Cost
Registering for the Signature Synagogue program involves an upfront gift to ADL New York/New Jersey of $750.00. These funds will cover the cost of every programmatic component of the Signature Synagogue initiative, including all ADL speaker and workshop honoraria. The fee can be attributed to ADL by the synagogue or underwritten by a member of the congregation. *Every member of each Signature Synagogue is granted an 18% discounted ticket rate for our annual Never Is Now Summit on Anti-Semitism & Hate, taking place at the Javits Center in New York City on November 21, 2019.
Recognition
Synagogues that complete these requirements will be granted an award at an annual recognition ceremony in the region.
For more details please fill out the form below or contact Stephanie Merkrebs at smerkrebs@adl.org or 212.885.7736
Click here to register your synagogue or request more information.