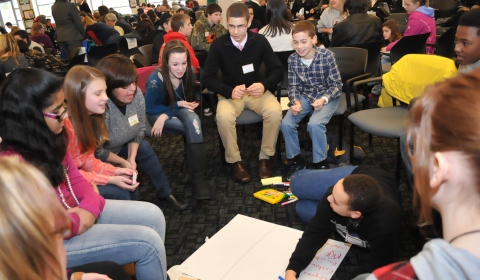 On Friday, January 17th, 2014, twenty two schools from the greater capital district of Albany attended the 9th annual STOP conference at Siena College, an extension of the college's Dr. Martin Luther King and Coretta Scott King Lecture series on non-violence. It was an opportunity for middle and high school students to work together to oppose prejudice and bigotry.
ADL's A WORLD OF DIFFERENCE® Institute facilitators lead over 235 students and 40 adults in an examination of identity and how bias affects themand their schools.
One of the strengths of the program is the mixing of students from different schools. This provides a platform for participants to build relationships with students from different communities with varying perspectives.
The final part of the program brought the students back into their school groups to discuss actions to fight the various injustices they see on a daily basis.
The feedback from the day was very encouraging. One educator's reflection read "This was a great experience for both advisors and students. It was interesting, relevant, and deeply thought provoking! Job well done!"