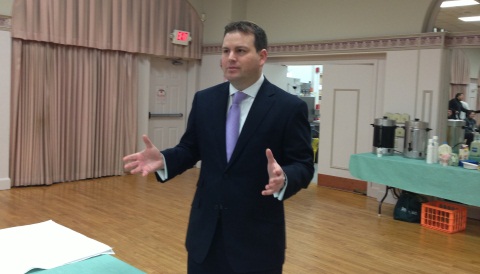 New York, NY, January 27, 2014 … In response to reports of anti-Semitism in the Pine Bush, N.Y. school district and surrounding town, the Anti-Defamation League (ADL) has brought its Confronting Anti-Semitism program to Orange County in an effort to empower and equip the local Jewish community with constructive and effective responses to anti-Semitic incidents and stereotypes.
ADL has implemented a series of workshops offering support and guidance to members of the local Jewish community in the wake of allegations raised in a lawsuit which asserted that Jewish students suffered anti-Semitic discrimination, harassment and bullying by other students and were unable to get school officials to take appropriate action.
"The community asked for our guidance and help," said Evan R. Bernstein, ADL New York Regional Director. "The interest and participation in this program were very strong and we look forward to continue building strong relationships in Orange County."
On January 12, more than 300 affiliated members from synagogues and unaffiliated community members from Middletown, Monroe and Newburgh came together under the auspices of the Jewish Federation of Greater Orange County to participate in three workshops which allowed the participants to discuss trends in anti-Semitism locally, nationally and globally; gain awareness about the types of incidents families are encountering; understand the impact of anti-Semitism on Jewish families; address the concerns of parents, teens and educators and engage in a forum for dialogue; and develop strategies for support, advocacy and leadership.
In a letter to ADL praising the workshops, Rabbi Joel M. Schwab of Temple Sinai in Middletown, New York noted that almost half of the attendees were middle and high school students.  The workshops "enabled our students to talk openly about their personal experiences with anti-Semitism and to empower them to react correctly."
"The adults had the opportunity to express their fears and relate their own experiences while learning how to proceed effectively in the face of anti-Semitic incidents," Rabbi Schwab wrote.  "Perhaps most important was the opportunity afforded our community, under the aegis of the ADL, to gather together and dialogue with each other in the face of the upheavals to which we have been subjected over the last two months."
Education staff, facilitators and trainers from the League's Connecticut and New York regional offices conducted the sessions.
Pictured Above: ADL NY Director Evan Bernstein Addresses Jewish Community Members of Monroe, NY 
The Anti-Defamation League, founded in 1913, is the world's leading organization fighting anti-Semitism through programs and services that counteract hatred, prejudice and bigotry.  Follow us on Twitter: @ADL_NY