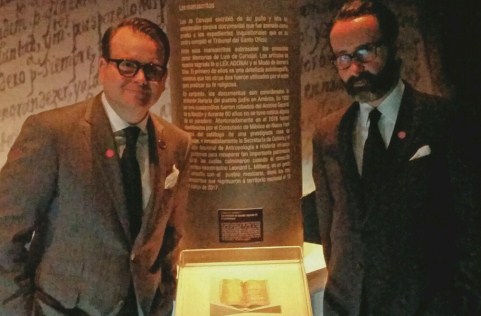 ADL New York Regional Director Evan Bernstein traveled to Mexico City as a guest of Ambassador Diego Gomez Pickering, Consul General of the Mexican Consulate in New York, to meet with influential leaders of the Mexican-Jewish community and organizations working on the forefront of civil rights.
The trip was organized by the Mexican Consulate in New York after ADL New York Region led a hate crimes and anti-bias training for over 60 consular staff from the Mexican and Peruvian Consulates on January 30th.
While in Mexico City, Bernstein held meetings with:
The trip concluded with a special ceremony at the Museum of Memory and Tolerance in honor of the Return of the Luis Carvajal Manuscript, the oldest Jewish document of the New World.  Bernstein was an honored guest of the New York Consulate of Mexico and was so proud to see ADL listed on a permanent sign next to the document display as a thank you for our partnership.
"These relationships are more important now than ever," said Bernstein. "Jewish communities and government organizations with shared values must work together to fight the spread of hate worldwide. ADL is extremely grateful for our partnership with the Mexican Consulate in New York and thanks Ambassador Pickering for providing us the opportunity to learn from the Mexican-Jewish community. We see this as only the beginning in what will be a strong and solid ongoing working relationship with the Mexican community in Mexico and New York."