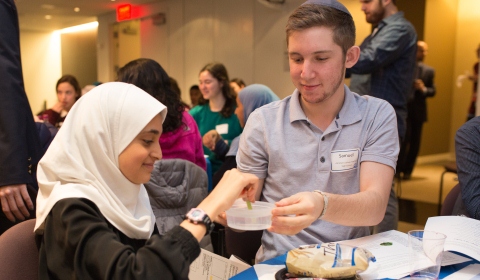 On Thursday, April 6th ADL New York Region welcomed students from the Islamic Cultural Center School, St. Margaret of Cortona School, Schechter Manhattan and Abraham Joshua Heschel School for an interfaith Seder in celebration of the upcoming Passover holiday.
This annual program is an opportunity for students to experience a traditional Passover Seder while also
learning about Catholic and Muslim customs. While learning about each component of the Seder, such as the special foods and blessings, Catholic and Muslim students were invited to share their traditional foods and blessings too.
To symbolize our similarities and shared values, students worked in groups to illustrate a component of the Passover Seder that incorporates elements of Catholicism and Islam.
One group's presentation highlighted how delicious food unites people of all religions and cultures!
ADL New York thanks our guests from each school, as well as Father Brian McWeeney of the Archdiocese of New York, for joining us and contributing to a meaningful day of friendship and learning.