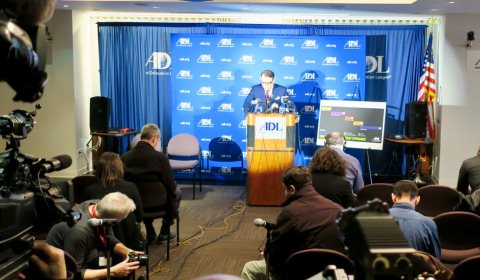 The ADL welcomed the arrest of a St. Louis man on Friday, March 3rd in connection with a bomb threat against its headquarters in New York and threats against at least eight other Jewish institutions across the United States.
According to a complaint unsealed this morning in Manhattan federal court, Juan Thompson, 31, of St. Louis, Missouri, is alleged to have made at least eight of the threats against JCCs in January and February as part of a sustained campaign to harass and intimidate a former girlfriend.  Thompson has been charged with one count of cyberstalking, and other charges may be pending.
ADL, which works closely with law enforcement and has been in regular contact with local, state and federal officials nationwide, and has expressed its appreciation to Preet Bharara, U.S. Attorney General for the Southern District of New York, and William F. Sweeney Jr. the Assistant Director in Charge of the New York field office of the FBI, for their work in bringing this individual to justice.
"There are many more JCC bomb threats that have not been solved and the communities are hurting and we hope all law enforcement will continue to be diligent. There is a lot of work to be done and our 26 ADL offices around the country are in close contact with institutions and people that have been affected…we need action to stop these threats," said Evan Bernstein, ADL New York Regional Director.
Oren Segal, ADL Director, Center on Extremism spoke at the press conference as well, saying "the motive is unclear, the impact is crystal clear. While I cannot speak about what is in Thompson's mind, and certainly not in his heart, threatening Jewish institutions is an anti-Semitic act."
We will continue to share information about the alleged perpetrator via our Twitter account, @ADL_NY.
Video footage of the press conference can be viewed here.