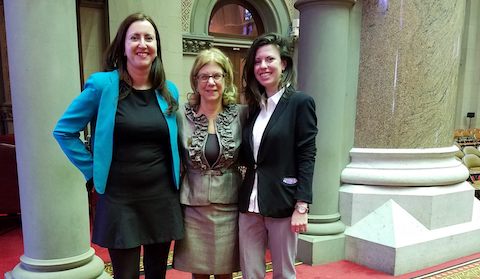 On March 15th, ADL New York Senior Associate Director Melanie Robbins briefed 40 New York State legislators on the findings from the Anti-Defamation League's (ADL) recent audit of anti-Semitic incidents. The briefing was hosted by Assemblymember Nily Rozic, who has proposed a new bill to mandate hate crime prevention and recognition training for law enforcement."
We appreciate the opportunity to meet with New York leadership to discuss how the rise of anti-Semitic incidents impacts their districts and measures each community can take to be proactive in combatting all forms of hate," said Robbins.
Later that afternoon, Assemblymember Rozic and ADL's Melanie Robbins were interviewed by the Capitol Pressroom to discuss Rozic's proposed legislation and the bill's potential impact. Click here to listen.
"We definitely believe that this bill will be helpful in addressing hate crimes," said Robbins.
One of the ways to combat hate crimes and bias incidents is to make sure there is reporting, and to encourage an environment in which people can come forward. Victims may not report hate crimes because they don't think it will be taken seriously. Enabling law enforcement to better understand hate crimes, such as how they manifest and their impact, are incredible steps forward."
Assemblymember Rozic explained that this proposed bill exempts agencies who are currently initiating hate crimes training for law enforcement officers. Those agencies that have not yet established a framework to provide training will be required to do so, and will be connected with organizations like ADL to have direct access to programs and resources.
Learn more about ADL's trainings, resources and partnerships with law enforcement.