Albany No Place For Hate®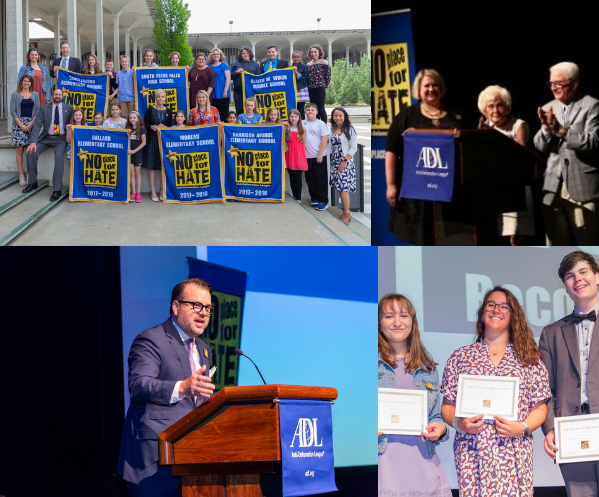 No Place For Hate® is designed to enhance a culture of respect and to create a safe, bully-free learning environment for students at all grade levels. In compliance with the New York State Dignity Act, the No Place For Hate® initiative offers schools the opportunity to be recognized for their staff development and student training related to bullying, harassment and discrimination.
ADL offers schools the opportunity to participate in the No Place for Hate® program at no cost. Schools that fulfill all requirements will receive a personalized banner at the end of the school year. Check out the highlight reel of No Place For Hate programming from our 2018-2019 school year!
Click here to view the brochure.
4 STEPS TO BECOME A NO PLACE FOR HATE SCHOOL
---
1. Registration for the 2019-2020 school year is now open. To register for the No Place for Hate program or to express interest in registering, please fill out the following form.
When registering, you will need to provide school/contact information and a list of your No Place for Hate Committee members. The Committee must include students, faculty and staff members, at least one administrator, and at least one family member that reflect the diversity of the school community. Once ADL receives your information, you will receive the No Place For Hate Resource Guide, listing over 30 possible projects. You will also be invited to share a Google Folder with all of the forms and resources you will need throughout the school year.
2.  Sign the Resolution of Respect/Promise.
Every member of the school community needs to sign the Resolution of Respect (middle and high schools) or the No Place for Hate Promise (elementary schools), affirming their commitment to No Place For Hate.
3. Complete at least 3 Activities.
To be designated a No Place for Hate school, each student must have an opportunity to participate in three ADL approved activities that address bias and bullying and involve discussion, active learning, and an action plan. Activity Proposal Forms must be submitted at least three weeks before the date of the activity. For more details, please see the Activity Guidelines.
4. Receive a No Place for Hate Banner.
Upon completion of all requirements, you will receive a customized banner designating your school No Place for Hate!
For more information, contact NPFH_Albany@adl.org