Upstate – No Place For Hate®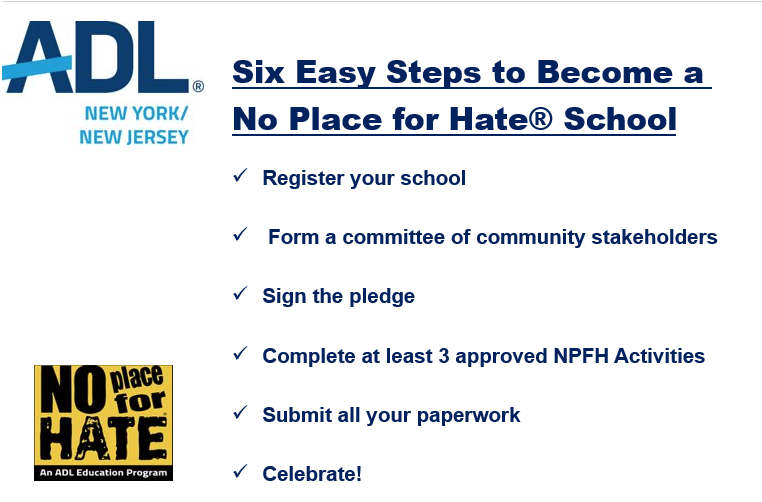 6 EASY STEPS TO BEING A NPFH SCHOOL

 
1. REGISTER
An administrator or educator must sign up your school community to be part of the NPFH program. The 2021-2022 school year registration is not live yet. To be notified when registration opens, fill out this form.  
2.  FORM A COMMITTEE 
The Committee must include students, faculty and staff members, at least one administrator, and at least one family member that reflect the diversity of the school community. If interested, reach out to npfh_albany@adl.org to set up a committee training! 
3. SIGN THE PLEDGE
Every member of the school community needs to sign the Resolution of Respect (middle and high schools) or the No Place for Hate Promise (elementary schools), affirming their commitment to No Place For Hate. 
4. COMPLETE AT LEAST 3 NPFH ACTIVITIES
To be designated a No Place for Hate school, each student must have an opportunity to participate in three ADL approved activities that address bias and bullying and involve discussion, active learning, and an action plan. Schools that complete four or more activities will be designated as a Gold Star School.   
5. SUBMIT ALL PAPERWORK 
Your pledge, activity forms, and supplemental materials must be shared through your google folder. 
6. CELEBRATE 
Upon completion of all requirements, you will receive a customized banner designating your school No Place for Hate! 

JANE GOLUB NO PLACE FOR HATE EDUCATOR AWARD
Every year, ADL Albany selects one educator for the Jane Golub No Place For Hate Educator Award. Jane was an ardent supporter of education and a philanthropist who help shape what ADL Albany's Education looks like today. Jane was dedicated to making a difference in students' lives whether through her time in the classroom or through her work in creating anti-bias training materials with ADL.
Recipients of the Jane Golub No Place For Hate Educator Award have gone above and beyond to make their school community No Place for Hate. Click here to read more about the 2021-2022 Jane Golub No Place For Hate Award recipients, April Nedwell and Abby Brigham.