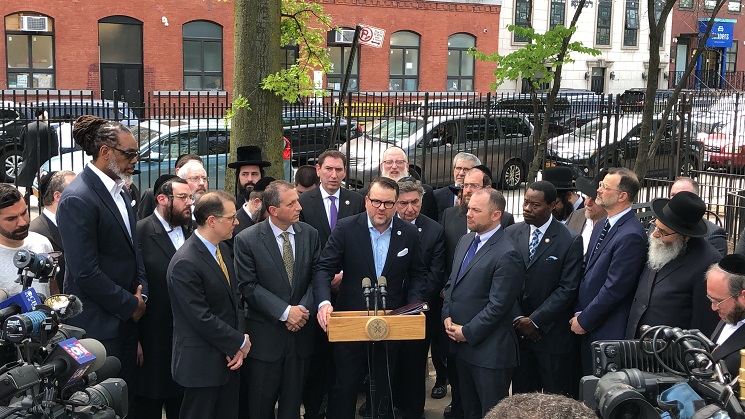 Evan Bernstein joined Jewish leaders, Speaker Corey Johnson and other members of the New York City Council for a press conference on the disturbing uptick in anti-Semitic incidents in Brooklyn. In the past two weeks, ADL issued press releases on two alleged anti-Semitic assaults of Orthodox men in the Williamsburg area, offering a $5,000 reward for any information leading to the arrest and conviction of those responsible for the attacks. Over the weekend, reports emerged of an additional incident involving the harassment of two Hasidic teens.
"We have seen a normalization of anti-Semitism in the last three years," Regional Director Evan Bernstein said at the Monday morning press conference, "We are incredibly concerned. 1,879 [anti-Semitic] incidents in 2018 alone. That's an average of five per day." See our 2018 Audit on Anti-Semitic Incidents for more details.
The 2018 trends continued into 2019 as seen in the early-May report released by NYPD Hate Crimes Unit. According to NYPD, New York state hate crime numbers for the first four months of 2019 show a continual increase in anti-Semitic incidents.
We thank the NYPD for their diligence and discretion in investigating these incidents.