On Tuesday, May 7th, ADL Albany recognized 66 schools from the Capital Region as No Place For Hate® schools, honoring their commitment to school climate improvement, bullying prevention and anti-bias education for the 2018-2019 school year.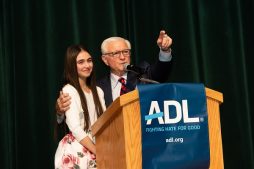 The recognition ceremony, held at Shenendehowa High School East, hosted over 500 students and educators who participated in the No Place Hate® program at their school and honored those who embodied this year's theme, "This is Me." Inspiring and captivating speeches were given by our three Gold Star Student Award winners as well as the first ever student winner of the Neil and Jane Golub Making a Difference Award, Isabella Sementilli.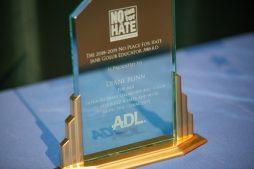 The ceremony also featured the renaming of ADL's award for educators in honor of the late Jane Golub, who was a longtime supporter and friend. The Jane Golub Gold Star Educator Award,  will recognize educators who have gone above and beyond expectations in the implementation of No Place for Hate in their schools. The recipient of this years inaugural award was Diane Blinn from Mohonasen High School.
Additionally, the Albany office announced a new partnership with Passport For Good, a digital tool for tracking and verifying community service, career development, participation and learning. This means, that as an affiliate with the platform, ADL program hours can now be tracked via the application for students to then share with Colleges, Universities or and job opportunities.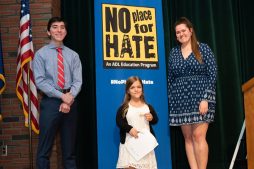 We are extremely grateful for the MC talent of Jack Lamson of CBS 6  as well as the student performers from Circleville Middle School and Niskayuna High School.
Thank you to our sponsors Frito Lay, The Neil and Jane Golub Foundation, Price Chopper Supermarkets, Market32, CBS6 and iSmile Studios for their generous contributions.  Without all of you, this wouldn't be possible!
Learn more about No Place For Hate®.
2018-2019 No Place For Hate® Schools from Upstate New York 
*indicates gold distinction
Bishop Grimes
Brunswick-Brittonkill CSD
Chango Elementary School*
Circleville Elementary School*
Circleville Middle School*
Cobleskill-Richmondville High School
Cohoes High School
Cornwall Central Middle School*
Craig Elementary School
Crispell Middle School*
Draper Middle School
Edward J Russell Elementary School*
Glencliff Elementary School*
Gowana Middle School*
Hadley-Luzerne Jr./Sr. High School
Harrison Avenue Elementary School
Hillside Elementary School
Holy Spirit School
Jesse T. Zoller School
Karigon Elementary School*
Koda Middle School
Malta Avenue Elementary School*
Mechanicville Elementary School*
Mechanicville Junior High School*
Mohonasen High School
Moreau Elementary School*
Niskayuna High School
Okte Elementary School
Oliver W Winch Middle School
Orenda Elementary School*
Pakanasink Elementary School
Pine Bush Elementary School*
Pine Bush High School
Queensbury Middle School*
Rosendale Elementary School
Roxbury Central School
SAEC- WSWHE BOCES
Sanford Street TLC
Schalmont High School
Schalmont Middle School
Schoharie Elementary School
Scotia-Glenville Middle School
Shatekon Elementary School
Shenendehowa High School*
Skano Elementary School
South Glens Falls High School*
Tanglewood Elementary School*
Tesago Elementary School
The Center for Advanced Technology
Van Antwerp Middle School
Van Corlaer Elementary School
Washington Street Teaching and Learning Center*
Watervliet Elementary School
Watervliet Jr. Sr. High School
WSWHE BOCES F. Donald Education Center*