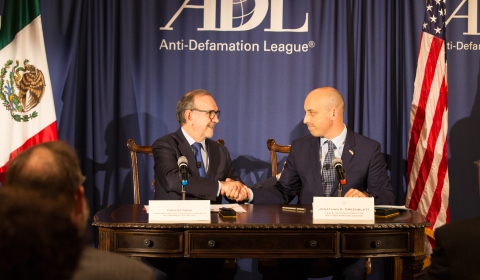 On September 19, 2017, ADL and the Mexican Foreign Ministry signed an agreement that will create a framework across the U.S. to provide assistance to people of Mexican heritage who are victims of discrimination, bigotry, bullying and hate crimes.
The Memorandum of Understanding signed at a ceremony in New York City by Undersecretary for North America, Ambassador Carlos Sada and ADL CEO Jonathan A. Greenblatt officially launches a two-year partnership working to fight back against the rising tide of hate crimes and discrimination facing Mexican nationals and immigrants living in America. The MoU is rooted on shared values between ADL and the Mexican Government: opposing hate and discrimination; promoting respectful and inclusive communities; and protecting the rights of every person.
At Tuesday's ceremony, ADL New York Regional Director Evan Bernstein was the Master of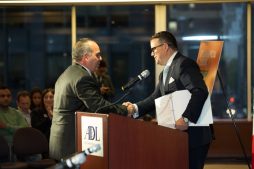 Ceremony, during which, he discussed ADL New York's model work with the  Consulate of Mexico in New York and specifically, the Consul General Amb. Diego Gómez Pickering. The event also featured ADL New York Partner, Captain Mark C. Molinari from the elite NYPD Hate Crime Task Force. Captain Molinari shared examples of success in building bridges between law enforcement and the Mexican community in New York.
The relationship consists of different phases. In the first phase of the program, ADL will deploy experts on hate crimes, hate groups and discrimination to the 50 Mexican consulates across the U.S. where they will meet with consular staff and provide workshops and trainings on how to fight harassment as well as to identify and report hate crimes.
In the second phase ADL and the Foreign Ministry will work together to gather data and information on cases where Mexican nationals are facing discrimination and partner on an awareness raising campaign to ensure victims know where to turn to for help when they need it most.
"This is a win-win partnership that helps expand our work on discrimination and help vulnerable communities in need. For more than 100 years ADL has been a leader in responding to bias and hate in society and helping victims of discrimination to find their voice," said Jonathan A. Greenblatt, ADL CEO.  "The Mexican government's network of 50 U.S. consulates is on the frontlines in providing services to a community in need. With the proper training and information, consulate staff can be better equipped to field discrimination and bias complaints and to have a rapid response mechanism in place for when discrimination is first reported."
Mexican Secretary of Foreign Affairs, Luis Videgaray, said in a statement:
"We have had a productive relationship with ADL for many years. This MoU will strengthen our collaboration at a key juncture for our community in the United States. We are concerned about anti-immigrant and anti-Mexican rhetoric and sentiments. In this regard, Mexico will continue offering comprehensive consular assistance and protection to our nationals, with full respect to the rule of law in this country and the support of organizations such as ADL."
This partnership however,  is already underway. To date, ADL has delivered trainings to more than 150 community affairs officers at Mexican consulates, and has trained the staff of the Mexican consulates in Las Vegas, Phoenix, San Francisco, Sacramento, Philadelphia and New York.
Under the Memorandum of Understanding the collaboration will now be greatly expanded, with outreach and support to all 50 Mexican consulates in the U.S. Programs will be offered and delivered over the next 24 months in close coordination with ADL's network of 26 regional offices, whose experts will provide trainings on topics including responding to discrimination and hate crimes, identifying hate groups, understanding anti-immigrant groups and movements, and working to counter bullying and cyberbullying.
In addition, ADL will soon launch a national Spanish-language social media campaign, "#DenunciaElOdio" to raise awareness among the Hispanic community in the U.S. of the value and importance of identifying, reporting and exposing hate. This campaign has proudly originated out of the work done here in New York.