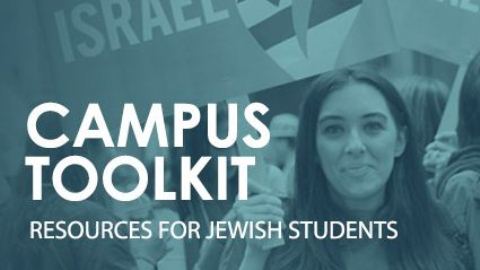 New York, NY, September 7, 2017 … As college students are returning to a new academic school year, the Anti-Defamation League (ADL) has released a new, multi-platform resource to equip them with essential information and tools to deal with anti-Semitism and anti-Israel bias on campus.
'THINK. PLAN. ACT.' is a comprehensive resource that prepares students for encounters with anti-Semitism and anti-Israel bias by defining what constitutes anti-Jewish animus, anti-Zionism and anti-Israel rhetoric and provides students with proactive strategies to deal with anti-Semitic incidents and prevent anti-Israel activity on campus. Through scenarios, videos and how-tos, the resource identifies examples and appropriate responses to common anti-Israel and anti-Semitic incidents students face, which include:
Mock anti-Israel demolition notices;
Swastikas and other forms of anti-Semitic vandalism;
Key information on free speech issues, including a set of tips on how to work with college administrators.
As part of the project, ADL has produced a new online resource featuring a series of testimonials of personal anecdotes from students who have confronted anti-Israel activity or experienced anti-Semitism on their respective campuses as well as a video explaining anti-Semitism and anti-Israel bias. The resource is available online at www.adl.org/ThinkPlanAct.  Hard copies of the publication will be distributed nationally.
"The reality is most Jewish students and pro-Israel advocates have positive experiences on campus. However, some students continue to face anti-Semitic incidents on their campuses as well as anti-Israel activity, some of which crosses the line into anti-Semitism," said Jonathan A. Greenblatt, ADL CEO. "With this new resource, we hope to give students the tools to respond effectively.  Students should know there's great support on campus for them from the administration and Jewish life groups. We hope this new resource will provide additional guidance for students and those who work with them."
Since September 2014, ADL has been running its Words to Action program, an interactive education program for college and pre-college students designed to empower and equip them with constructive and effective responses to combat anti-Semitism and anti-Israel bias.  ADL also continues to be engaged in efforts to counter BDS and other anti-Israel activity, including providing hands-on support to students and campus professionals.
The Anti-Defamation League was founded in 1913 to stop the defamation of the Jewish people and to secure justice and fair treatment to all.  Today it is the world's leading organization combating anti-Semitism, exposing hate groups, training law enforcement on hate crimes, developing anti-bias curricula for students, countering cyber-hate and relentlessly pursuing equal rights for all. Follow us on Twitter: @ADL_NY