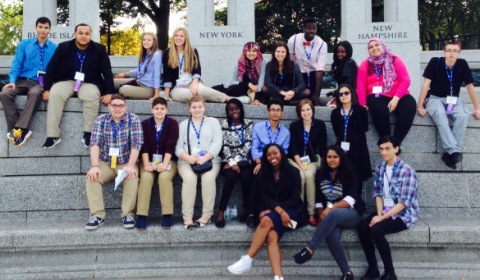 On October 26, 2014, 20 ADL Peer Trainers and Peer Leaders from New York State traveled to Washington, D.C. to participate in the 2014 Grosfeld Family National Youth Leadership Mission.
The New York delegation joined 95 other students from across the United States for four days of A WORLD OF DIFFERENCE® Institute programming designed to help students apply the lessons of the Holocaust to modern day issues of anti-Semitism, bigotry, and hate. The centerpiece of the mission was a tour of the U.S. Holocaust Memorial Museum where students learned about the persecution and atrocities of the Second World War and examined contemporary issues of extremism, bigotry, and genocide. Delegates had the opportunity to hear from notable speakers, including:
Dr. Leon Bass, a U.S. Army soldier during World War II who was detailed to Buchenwald Concentration Camp to assist in relief, and was among the first American soldiers to be seen by survivors of the camp.
Nesse Godin, a survivor of a Lithuanian ghetto, the Stuffhof concentration camp, four labor camps, and a death march.
Jacqueline Murekatete, a survivor of the Rwandan Genocide and an internationally recognized genocide prevention and human rights activist.
Abraham H. Foxman, ADL National Director and a Holocaust survivor, shared his personal story of being saved from the Nazis by his Polish Catholic nanny.
On October 27th, mission participants attended ADL's 20th annual "Concert Against Hate" at the Kennedy Center for Performing Arts in Washington, D.C.
On the last day of the mission, delegates rallied together to create an action plan to address bias and bullying in their schools and communities following the mission.