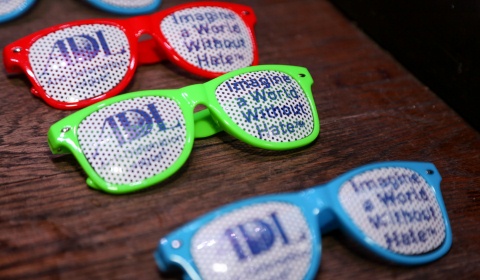 On November 19th, the New York Region's Next Generation Philanthropy Community held its 8th annual Imagine Gala for ADL's young professional lay leaders to come together and work toward a world without hate. . The evening brought together over 400 people and raised over $90,000 in support of ADL's work in the New York Region.
Held at Marquee NYC, one of New York City's most exclusive venues, Imagine honored Rebecca Shomair, ADL NY Regional Board member and founder of ArtWorks ADL (formerly JustArt), with the 2nd annual Imagine Award (formerly Centurion Award), for her commitment, dedication and support of ADL. Co-Chaired by Aaron Mazor and Jessica Spitzer, the evening featured outstanding music by world-renowned DJ Danga. Sponsors of the evening included Raymour & Flanigan, AJA Charitable Trust, Dobbel Tequilla, Samuel Adams and Tishbi/The River Wine. The raffle and silent auction were filled with generous donations from SoulCycle, the Morgan Hotel Group, Equinox, Bravo Media, The Weinstein Company, Jordan Klein Jewelry, Bauble Bar and more.
This year's gala also featured a Text to Pledge option that was able to raise an additional $5,000 in under 5 minutes! Guests texted pledges that appeared on an overhead thermometer. The crowd unified in excitement, and used their technology for good to reach their common goal. The gala was the highest grossing Imagine to date! The Next Generation Philanthropy Community (NGPC) unites emerging leaders to become ambassadors for ADL. Since its inception in 2007, Imagine has brought together over 2,000 young professionals and raised over $500,000 to support ADL's work in New York.
"This year's Imagine Gala was a wonderful celebration of the Anti-Defamation League. The co-chairs and planning committee exceeded all expectations, from the amazing location at Marquee, over 400 attendees, impressive raffles and raising over $90,000 dollars to support the Cyberhate efforts at the ADL! It was very special to be honored at such an incredible event."
  -Rebecca Shomair, Winner of the 2014 ADL New York Region Imagine Award
 "The Imagine Gala is the stepping stone that helps to invigorate and educate the next generation of philanthropic leaders in our community.  It has been incredibly fulfilling watching as this event has evolved from being another great idea into an eye-opening evening that ignites a spark within our attendees.  It is great knowing that we have had a hand in molding the ADL Imagine Gala into something much more than another night on the town and look forward to continuing my work with the ADL."
– Aaron Mazor, 2014 Imagine Gala Co-Chair
To learn more how to get involved with the NGPC and be part of ADL's next 100 years, click here.