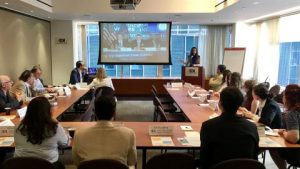 On Wednesday, July 26th, the ADL New York Region launched the inaugural Summer Speaker Series, one-hour high-level and intimate breakfasts with discussions about timely and interesting topics.
"Human Rights & Youth Empowerment: Developing New Leaders in the Middle East" featured Mohamed AbuBakr, founder of AMEL and political refugee. Mohamed spoke to an intimate group of ADL New York leadership and top supporters about his work with the African Middle Eastern Leadership Project (AMEL), his personal story as a human rights advocate in Sudan including in Darfur and for women's rights, as well as his work as Africa Director for YaLa Young Leaders, an online dialogue movement promoting peace between Israelis and Muslims in the Middle East & Africa. ADL NY is extremely proud of our relationship with Mohamed and AMEL and look forward to working with them.
"Immigration Policy and Reform: Where Does New York State Stand?" featured Jenifer Rajkumar, Director of Immigration Affairs & Special Counsel for the NY Department of State. Jenifer spoke about the Legal Defense Project, Governor Andrew Cuomo's initiative to bring resources and free legal representation to immigrants of any status and the confidential toll-free immigration support hotline for New Yorkers launched by Governor Cuomo. The launch of this hotline follows action the Governor took regarding refugees who were detained at airports across the state.
"Back to School: Challenges and Responses to BDS on Campus and in the Community" featured a distinguished roster of panelists with moderator Gregg Mashberg, former New York Regional Board Chair. The program was an opportunity to hear from a diverse range of perspectives regarding the prevalence of BDS campaigns both on and off campus and ho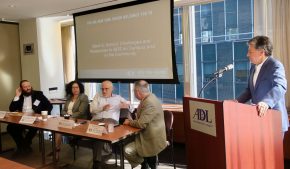 w ADL is combatting the movement's efforts. Amir Sagie, Deputy Consul General of Israel in New York said the State of Israel is deeply troubled that the BDS movement's messages are penetrating mainstream discourse. The panel included: Rabbi Daniel Sanoff, President of Chabad serving Vassar College, Lee Perlman, Co-Chair of Hunter College Hillel, Susan Heller Pinto, ADL Director of Middle Eastern Affairs, and Amir Sagie, Deputy Consul General, Israel Embassy.