ADL in Albany Unites 300 Students & Educators for Annual STOP Conference at Siena College
Nearly 300 students and educators from 30 schools from across the greater capital district attended the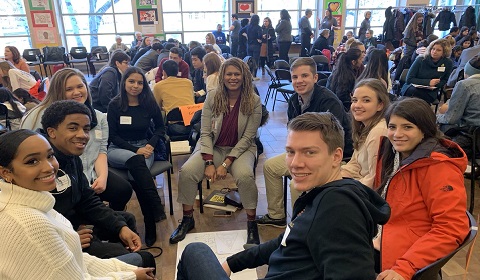 STOP Conference at Siena College on January 11th2019. The STOP conference is held in remembrance of Dr. Martin Luther King, Jr. and provides a platform for middle and high school students to engage in anti-bias education and skill building. Read more!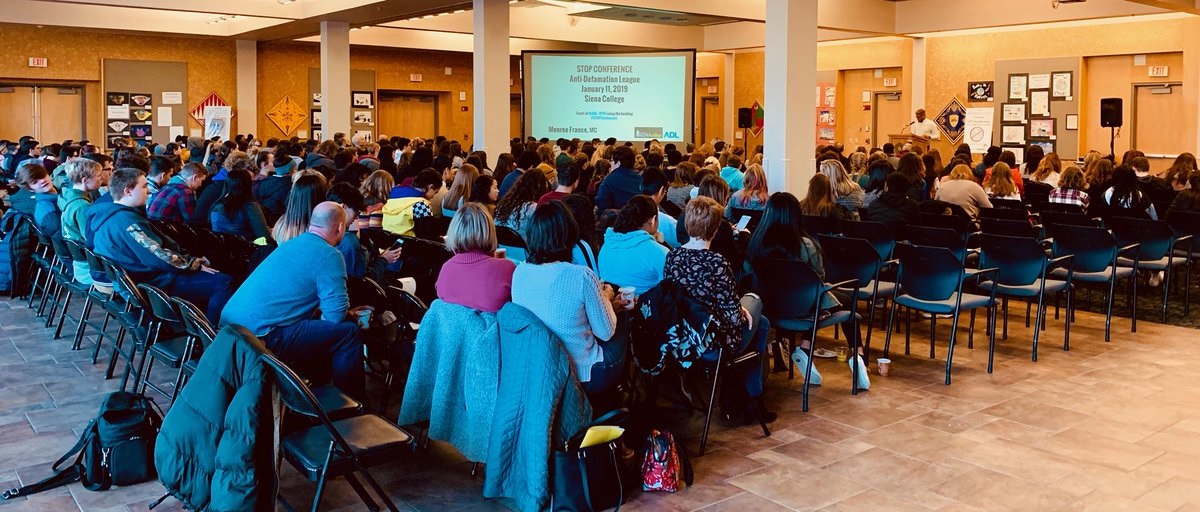 The 2017 Albany No Place For Hate® Recognition Ceremony 
On Thursday, May 18th, ADL Albany recognized 45 schools from the Capital Region as No Place For Hate® for their commitment to creating bias and bully-free, inclusive learning environments.
The recognition ceremony, held at the SUNY Albany Performing Arts Center, hosted over 350 students and educators who participated in the No Place Hate® program at their school and honored those who went above and beyond to stand up to bullying with Gold Star awards.
Read more and view pictures of the ceremony!
Eight High School juniors have been selected from upstate New York to attend the 2016 ADL Grossfeld Family National Youth Leadership Mission to Washington, D.C. with the ADL Albany office. This energetic group is comprised of students from Averill Park High School, Bishop Grimes School, Schenectady High School and Shenendehowa High School. The students were selected after participating in ADL's A WORLD OF DIFFERENCE© Institute Peer Training program at their school.
Check out the selfie they took while bonding after their first orientation meeting. From front to back their names are; Aiden Keenan, Bebe Katadeen, Catherine Hannigan, Thea Peabody, Sarah Hammerle, Hannah Brisee, Natalie Vandergriff and Kendall Mancuso.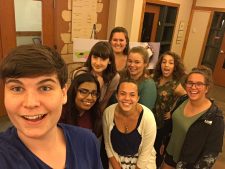 Students Gather to Create Change at the Annual STOP Conference
On January 15th, 2016 schools in the Greater Capital District of Upstate New York attended the 12th annual Students Together Opposing Prejudice (STOP) conference; hosted by Siena College and facilitated by the Anti-Defamation League. All together 230 students and 35 Educators from 22 schools were in attendance. Read more here.
Click here to view coverage of this year's STOP conference on CBS 6!
NEW! ADL Albany, Price Chopper, Neil & Jane Golub and CBS 6 work together to create PSA's to fight bullying and bias as part of the Be An Ally Campaign.
Watch our new videos with the Tri-City ValleyCats here and here!
Albany Region schools receive their No Place for Hate® banners in recognition of their dedication to combat bullying, bias, and bigotry. CBS 6 Albany covers the special banner presentation ceremonies: 
The Sanford Street Teaching and Learning School
Upcoming Event: Cabin Fever Comedy Night
On February 28th, the Schenectady Police Benevolent Association is hosting a comedy night to benefit ADL's 'Be an Ally' campaign against bullying. You're invited! Read More.
The Anti-Defamation League and Siena College Co-Host the 11th Annual Students Together Opposing Prejudice (STOP) Conference
Albany, NY, January 21, 2014…On January 9th, 2015 one hundred and forty students and twenty five educators from fourteen schools around the greater capital district of Albany, NY attended the 11th annual STOP Conference at Siena College. This conference is an extension of the college's Dr. Martin Luther King and Coretta Scott King Lecture series on non-violence. Read More.
ADL Albany's Beth Martinez Drops the Puck at the Albany Devils First Ever 'Bullying Prevention Game'
Albany, NY, October 31, 2014…The Albany Devils hosted their first ever "Bullying  Prevention Game" on Saturday, October 25th when they welcomed the Hartford Wolf Pack to the Times Union Center at 5pm. The Devils joined forces with the "Be an Ally" partnership between CBS6, The Anti-Defamation League (ADL), Neil and Jane Golub and Price Chopper. Read More.
ADL Youth Leadership Mission to Equip Albany Students with an Action Plan to Confront Hate
Albany, NY, October 24, 2014 … A diverse group of students from the Capital District will travel to Washington, D.C. to embark on a significant experience to apply lessons learned from the Holocaust to their own lives and lead the fight against bigotry and hate in their respective communities at the Anti-Defamation League's (ADL) Grosfeld Family National Youth Leadership Mission. Read More.
WMHT American Graduate Features ADL Albany Region's Neil & Jane Golub In Recognition of Their Ongoing Support of ADL Education Programs
September 19, 2014: Neil and Jane Golub were recently given the distinction of Champions in Education by WMHT for their work with ADL in bringing A WORLD OF DIFFERENCE® Institute programming and the Be An Ally campaign to the Albany area . Watch the Video & Learn more about Neil & Jane Golub
CBS News Albany interviews ADL New York Region's Beth Tidd Martinez About Bullying in Schools
August 28, 2014: "I would hope that schools are doing their due diligence. It is important for schools to be reporting incidents of bullying," Martinez said in response to several cases of bullying that happened during the last school year. Watch The Video 
ADL Praises New York State Police For Its "Swift And Effective Response" To Anti-Semitic and Racist Incidents In Upstate N.Y.
New York, NY, June 12, 2014 … The Anti-Defamation League (ADL) today commended New York State Police for their "swift and effective response" on the arrest of two suspects allegedly responsible for spraying anti-Semitic and racist graffiti on businesses and government property in Whitehall, New York. Read More
Channel 13: Police investigate possible link between graffiti and Facebook hate group
June 10, 2014: WHITEHALL – Cars and trucks weren't the only things in need of a good cleaning at Big G's Car Wash Tuesday afternoon. That's because someone scrawled racist graffiti at several spots in this northern Washington County community, including the car wash and the neighboring El Citadel antiques where owners were busy Tuesday covering graffiti sprayed on the walls of their businesses. Read More