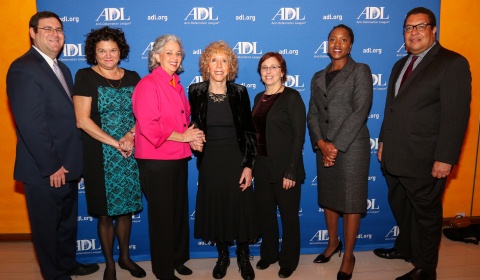 The New York Region's Lawyers Division hosted its 21st annual Edward Brodsky Legal Conference, The 50th Anniversary of Selma: Its Legacy and Enduring Challenges, on Tuesday, March 10th at the Times Center in New York City. The panel was moderated by Deborah M. Lauter, ADL's Director of Civil Rights and featured today's leading experts in civil rights – Cheryl Greenberg, Paul E. Raether Distinguished Professor of History; Janai Nelson, Associate Director-Counsel of the NAACP Legal Defense and Educational Fund, Inc. and Dennis Parker, Director of the ACLU Racial Justice Program.
Co-Chaired by Linda Riefberg of Cozen O'Connor and Samuel Groner of Fried, Frank, Harris, Shriver & Jacobson, the conference raised $25,000 toward the Edward Brodsky Legal Endowment, which also supports the annual Edward Brodsky Legal Internship Program and training for the NYC Law Department.
To view the conference and obtain Continuing Legal Education (CLE) credits, visit http://www.adl.org/brodsky.