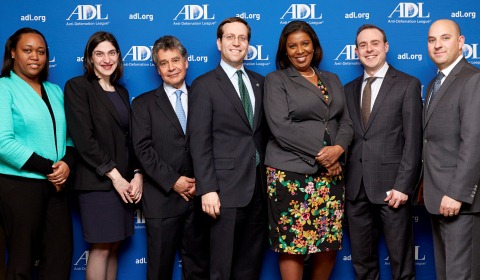 The Anti-Defamation League's (ADL) New York Region held its 1st annual Advocacy Summit from Monday, March 30 to Thursday, April 2, 2015. Throughout the week, ADL constituents met with local elected officials across all five boroughs, Long Island, and Westchester to discuss the work being done by ADL in their communities. The Advocacy Summit began the morning of March 30th with a Kick-Off Breakfast which included lobbying training for all participants.
The Advocacy Summit concluded on April 2nd with a celebratory cocktail reception at the law office of O'Melveny & Meyers. The evening featured an inspiring address by Letitia James, Public Advocate for the City of New York, in which she emphasized how the work of ADL is so aligned with the mission of the office of the Public Advocate. James eloquently expressed the importance of ADL, saying, "I've tasted hate and discrimination in my life and I never want another child to confront it."
ADL New York Region thanks Steve Feinman and Carolyn Karo, event Co-Chairs, Jason Kessler and Steve Rabbitz, Government & Public Affairs Committee Co-Chairs, Gregg Mashberg, ADL New York Regional Board Chair, and Andy Frackman, ADL New York Regional Vice Board Chair, and all supporters that advocated on behalf of ADL throughout the week for making this year's Advocacy Summit so successful.
Photographed above (from left to right): Nicola Straker, Education Project Director; Gabrielle Sherb, Director of Development; Gregg Mashberg, ADL New York Regional Board Chair; Assembly Member David Buchwald; Letitia James; Public Advocate for the City of New York; Etzion Neuer, ADL New York Region Deputy Director; Larry Bahr, ADL Westchester Advisory Committee Chair
Photo Credit: Angela Altus