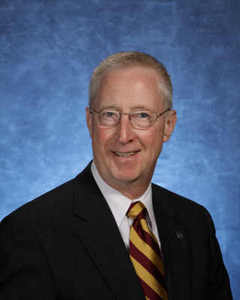 Name:  Brother Thomas R. Leto, CFC
Community:  New Rochelle, NY
Occupation:  President, Iona Preparatory School
ADL Role:  Bearing Witness and Bearing Witness Advanced alumnus
What is your earliest memory of ADL? 
I honestly do not recall my earliest memory of ADL.  However, I do recall hearing about ADL and their work on radio and television newscasts and also through newspaper articles.
How did you first become involved in ADL? 
My first interaction with ADL was three years ago when I received an email from the Superintendent of Schools for the Archdiocese of New York regarding the Bearing Witness Program.  I read through the literature and forwarded it to all the members of our Social Studies and Religion departments.  A few days later I received another notice about the same program through the National Catholic Education Association.  It occurred to me that I was very interested.  However, the information from ADL specifically stated that the Program was geared to high school Religion and Social Studies teachers.  I decided to take a chance and send in my application and was delighted to hear that I was accepted!  I also found out that another member of our staff would be in attendance.  I was able to pass on all of the information that I received as a participant to our Social Studies and Religion Chairpersons.  As a result, the information is now being used by many of our teachers.  In fact, Iona Prep has had four more staff members attend the Bearing Witness Program.  Now, as a result of my participation I was fortunate enough to attend the Advanced Bearing Witness Program in Israel.  Now that was an experience!  To be able to visit sites sacred to Jews, Muslims and Christians was a gift to me given through the ADL.  The entire ADL program was a powerful experience that gave me a different view of Arab – Israeli relations, anti-Semitism and what it means to be a true Christian in our world today. 
How do you envision ADL's Centennial Theme "Imagine a World Without Hate™"? 
After my two very different experiences of Bearing Witness, I can now envision a world where we are able to live and thrive together without hatred, jealously, corruption, and sin.  There are many people who are willing to combine their efforts to make our world a better place.  Will it be perfect?  No, but at least we will try.  ADL has taken many opportunities to speak out against hatred of any sort against any people or nation.  I believe that we are seeing their influence beat fruit.  The Bearing Witness Program is one of many ways to influence the young people of the United States through education of teachers.  The tools provided to Catholic school educators across our nation by the ADL will help to alleviate pools of hatred across our country.  The more ways that we have to educate our young people in proper Catholic Christian values, the more tools we give them to make good decisions, the more opportunities we provide them to improve their lives, the better our world will be, a world free of hatred.