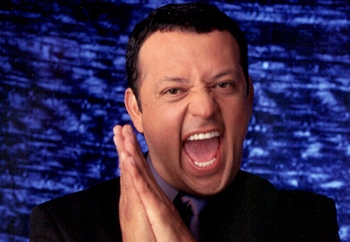 Latin King of Comedy Paul Rodriguez will give a special performance at ADL & Broadway: Side by Side Against Hate for 100 Years on November 25th.
Rodriguez has been making audiences laugh all over the world (in Spanish and English) for nearly three decades with his unique brand of humor that is a perfect blend of his Latin heritage, the American dream and his undeniable universal appeal. As an actor and comedian, Paul Rodriguez's multi-faceted career includes starring roles and featured appearances in over 45 films and countless television series and comedy specials.
Voted one of the most influential Hispanics in America and awarded the Ruben Salazar Award by The National Council of La Raza (NCLR), the largest national Hispanic civil rights and advocacy organization in the United States, Rodriguez has remained a constant force in his community and the world of comedy throughout his career. Throughout his career Rodriguez has remained involved with various charitable, civic and educational organizations including the Hispanic Scholarship Fund, Juvenile Diabetes Foundation, Elizabeth Glaser Pediatric AIDS Foundation, League of United Latin American Citizens (LULAC) and The Leukemia Society, to name a few. He also is a member of the advisory board of the California Film Commission. Additionally, as part owner of the world famous Laugh Factory, Rodriguez has participated in the club's annual free Thanksgiving and Christmas dinners for the underprivileged for over 30 years. Rodriguez was honored with the Humanitarian of the Year Award by the City of Fresno for his tireless work on behalf of water conservation. As Chairman of the California Latino Water Coalition, Rodriguez was one of the driving forces behind the California Water Bond Measure coming into fruition.
To see Paul and a venerable cast of Tony Award winning Broadway stars, tickets can be purchased at http://www.adl.org/broadway100.