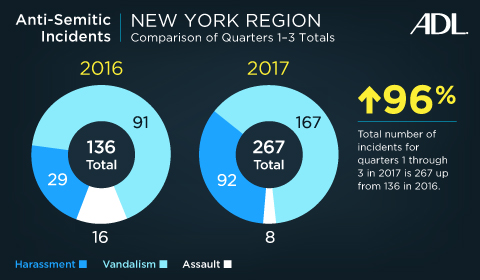 Incidents Nearly Double; Statewide Sees 96 Percent Increase Over Last Year; Surge of 92 Percent in NYC
New York, NY, November 2, 2017 … Anti-Semitic incidents across New York State nearly doubled in the first nine months of 2017, with troubling increases in the number of cases of vandalism and harassment. While reported assaults decreased from last year, two-thirds of reported assaults nationwide took place in New York, according to new data from the Anti-Defamation League (ADL).
New York State experienced 267 anti-Semitic events from January through Sept. 30, 2017, and it continues to lead the nation with the highest number of incidents in the U.S. so far this year.  That total far surpasses the total of 199 incidents reported across the state in all of 2016.
"The shocking increase of anti-Semitic incidents in New York State is simply unacceptable and cannot become the new normal," said Evan R. Bernstein, ADL New York Regional Director. "The pace has increased in the past few weeks. We've seen swastikas scrawled on the front door of a synagogue in Manhattan, anti-Semitic fliers appearing on campus, and a Jewish residence vandalized on Staten Island.  We cannot be complacent in the face of these attacks."
The total number of anti-Semitic incidents across New York State in the first three quarters of 2017 included:
167 incidents of vandalism;
92 incidents of harassment;
8 incidents of assault.
Vandalism or anti-Jewish graffiti constituted a majority (62.5%) of incidents reported across New York State, followed by harassment (34.5%).
New York City Metro Area:
In the first three quarters of 2017, 171 anti-Semitic incidents were reported in the five boroughs of New York City, compared to 89 incidents year-over-year, resulting in a 92 percent increase. Nearly 80 percent of the incidents occurred in Manhattan and Brooklyn.
Anti-Semitic incidents for the first nine months of 2017 for the five boroughs and the New York City metro area:
Manhattan: 76
Brooklyn: 63
Queens: 20
Bronx: 7
Staten Island: 5
Long Island: 32
Westchester, Rockland County and Upstate: 64
Nationwide, ADL's Audit counted 1,299 anti-Semitic incidents in the first nine months of 2017, a 67 percent rise from the 779 incidents reported during the same period in 2016. One out of every five anti-Semitic incidents nationwide took place in New York State.
Sampling of Select Incidents Across N.Y State in 2017:
Manhattan:
A swastika was carved into seat on a subway car (August);
A Jewish woman's mezuzah was ripped from her doorpost, smashed and strewn across the floor (May);
A woman discovered a Star of David and a swastika drawn with black marker on a window pane in a public building (September);
Swastikas were drawn in marker on the exterior wall of a bank (June).
Brooklyn:
A synagogue was burglarized and vandalized with fire extinguisher (July);
Two swastikas were discovered drawn on the sidewalk outside a Jewish school (September);
An Orthodox Jewish woman was assaulted with her wig was pulled off (September);
An Orthodox Jewish man was attacked and assailed with anti-Jewish language (January);
A man claiming to be a police officer shouted an anti-Semitic slur and threatened a Jewish man at a gas station (April).
Bronx:
Anti-Semitic graffiti was found spray-painted on Jewish family's home (September);
Anti-Semitic graffiti was found in school locker room (May)
Queens:
Glass panes on front doors of orthodox synagogue were shattered (August);
A Swastika and the phrase "No Jews" were discovered in a bathroom at a K-8 school (May);
A sign at JFK Airport was vandalized to read: "Any problem with Jews please call…" (June).
Long Island:
Graffiti including swastikas, anti-Semitic messages and gang graffiti were found at public high school (August);
Two swastikas were painted on a private home (February);
Swastika drawing was discovered on an elementary school playground (August);
A Student's textbook was defaced with scores of swastikas (March).
Westchester:
Anti-Semitic hate literature was left outside a Jewish institution (September);
A bomb threat was called in to a Jewish Community Center (February);
Vandals smashed a synagogue's signs (February);
Swastika and "F*** the Jews" were found drawn on wall of middle school restroom (March);
Swastikas were drawn on seats of a school bus (January).
Upstate:
Anti-Semitic and racist flyers were found on a university campus on Holocaust Remembrance Day (April);
A Jewish cemetery was vandalized with tombstones toppled (March);
A Jewish pedestrian assailed by driver: "Go back to where you came from, f***ing Jew," (March);
A for-sale house was vandalized with graffiti reading "no Jews" and "no J" (May);
Swastikas and the words "get out" were discovered spray-painted along a fence bordering Hassidic Jewish village (February);
A Jewish student discovered multiple swastikas drawn and carved on desks in high school library (January).
The Anti-Defamation League was founded in 1913 to stop the defamation of the Jewish people and to secure justice and fair treatment to all.  Today it is the world's leading organization combating anti-Semitism, exposing hate groups, training law enforcement on hate crimes, developing anti-bias curricula for students, countering cyber-hate and relentlessly pursuing equal rights for all. Follow us on Twitter: @ADL_NY