New York, NY, October 4, 2017 … The Anti-Defamation League (ADL) today strongly condemned a series of vicious anti-Semitic, racist and homophobic letters apparently targeting Jewish owned businesses in New York City.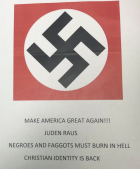 Since Friday, there have been reports of at least four letters received at Jewish businesses in Brooklyn and Manhattan. The letters, sent through the U.S. Mail with no return address, all feature the same imagery: a large Nazi swastika with an anti-Semitic, racist and homophobic typewritten message underneath that reads, in part, "Make American Great Again!!" "Juden Raus" and "Christian Identity is Back."
Christian Identity is a virulently racist and anti-Semitic religious ideology popular in some extreme-right circles which considers Jews to be the Satantic offspring of Eve and the Serpent, while non-whites are believed to be "mud peoples" created before Adam and Eve.
"It is disturbing that at least four Jewish-owned businesses across New York City were apparently intentionally targeted with the same piece of racist and bigoted hate mail," said Evan Bernstein, ADL New York Regional Director. "We are monitoring this and looking into whether these fliers are connected with any particular hate group, or if they are appearing in other places around the country."
ADL has been in close contact with NYPD about the incidents, as well as several of the individual businesses targeted, which include a law firm, a jeweler and a bakery. ADL is also investigating reports of an additional letter received at an address in Los Angeles.
Anyone who receives a similar mailing is advised to notify ADL and their local police.
The Anti-Defamation League was founded in 1913 to stop the defamation of the Jewish people and to secure justice and fair treatment to all.  Today it is the world's leading organization combating anti-Semitism, exposing hate groups, training law enforcement on hate crimes, developing anti-bias curricula for students, countering cyber-hate and relentlessly pursuing equal rights for all. 
Follow us on Twitter: @ADL_NY