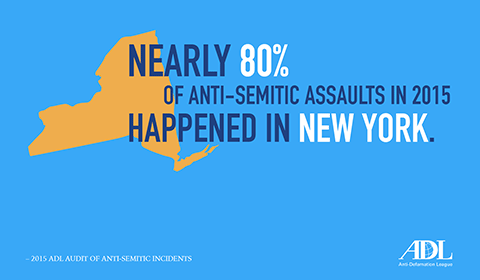 Assaults Nearly Doubled
New York, NY, June 22, 2016 … Anti-Semitic incidents in the State of New York decreased by 17 percent in 2015, according to the Anti-Defamation League's (ADL) annual Audit of Anti-Semitic Incidents issued today.  Despite the overall decline, the number of violent assaults doubled to 44 incidents, up from 22 the previous year.
ADL counted a total of 198 anti-Jewish incidents across the state in 2015, a decrease from the 231 incidents reported in 2014.  There were a total of 132 anti-Semitic incidents reported in the five boroughs of New York City.
"The decline in the overall number anti-Semitic incidents across New York State is encouraging and we hope to see the trend continue," said Evan R. Bernstein, ADL New York Regional Director. "On the other hand, we are troubled by the doubling of the number of violent assaults from 22 to 44. It is a reminder that violent anti-Semitism is still a serious problem in New York. We will continue to work with city officials to improve awareness and security in order to reduce the likelihood of future violent attacks against Jews."
As the state with the largest Jewish population in the country, New York continues to experience more anti-Semitic incidents than any other state in the U.S.
The total of 198 anti-Semitic incidents across New York State included:
44 cases of assault – up from 22 in 2014
56 cases of harassment, threats and events – down from 72 in 2014
98 cases of vandalism – down from 137 in 2014
Nationwide, ADL's Audit of Anti-Semitic Incidents reported a total of 941 anti-Semitic incidents in 2015, representing a three percent rise from the 912 incidents reported during the same period in 2014.
"New York State remains a safe environment for Jews to work, live and pray, and we are encouraged by the fact that law enforcement continues to put a top priority on the welfare and safety of members of our community and our communal institutions," said Andrew Frackman, ADL New York Regional Board Chair.  "Anti-Semitism is still a present-day reality and so we cannot be complacent.  Institutional and individual security is a must. We look forward to working with community together with our political, communal and interfaith leaders to ensure that New York remains both safe and user friendly for Jews and indeed for all minorities."
Anti-Semitic Acts by Borough and Region
In 2015, there were a total of 132 incidents in the five boroughs of New York City, including acts of assault, harassment and vandalism, compared to 147 incidents in 2014.
The following includes the total number of anti-Semitic incidents from specific regions:
Brooklyn – 59
Manhattan – 48
Queens – 12
Bronx – 5
Staten Island – 8
Long Island – 52
Westchester, Rockland County & Upstate – 14
The following is a sampling of Selected anti-Semitic incidents across New York State in 2015:
Bronx:
A swastika was discovered etched into the hood of a vehicle on a residential street. (August)
A backwards swastika was scratched into a stairwell wall in the LaLande Residence Hall, a freshman dormitory, at Fordham University. (September)
Brooklyn:
Without provocation or warning, a Hasidic Jewish man was struck in the face with a glass bottle. (June)
A Jewish woman was approached by a perpetrator who attempted to attack her with three dogs while ordering them to "Get the Jew b—-" (July)
An Orthodox man was hit over the head with an object and punched by two assailants. (July)
A Jewish man was stabbed in the back by an attacker wearing a skeleton mask. (November)
A Jewish man was repeatedly punched in the face after the assailant confronted him and yelled anti-Semitic epithets. (December)
A bomb threat forced a complete evacuation of the central headquarters of Chabad-Lubavitch during a Chanukah celebration (December)
An Orthodox Jewish teenager was punched in the face and knocked into the street while walking home from a yeshiva. (December)
Manhattan:
A Jewish man was attacked by three assailants who hit the victim from behind, causing him to fall to the sidewalk. (February)
The manager of a Jewish bookstore was punched in the face multiple times by an assailant who shouted "F— you Jews. I'll kill you. I'm a Muslim."(November)
A Jewish man with his children was approached by a man saying, "You f—— Jews" and splashed puddles at the children. (December)
Queens:
Two Jewish men were shot with BB guns during the High Holy Days. (September)
A Jewish man walking to synagogue was struck in the face by an assailant who said, "I am fed up with the Jews and I am sending a message. I am tired of these motherf—— Jews on this block." (November)
Long Island:
Two swastikas were scrawled on the Cedarhurst Long Island Rail Road station. (January)
A high school studenthad a photograph with her brother posted to her Facebook page altered to make her brother resemble Adolph Hitler with the caption: "I'd rather be gassing Jews right now." (March)
Two high school students were photographed wearing t-shirts emblazoned with large black swastikas and the words "Auschwitz" and "hit the showers." (April)
Rockland County and Upstate:
Three teenagers threw bottles and coins at campers of a Jewish summer camp. (July)
A teenager threw stones at a school bus carrying Jewish students, injuring a 7-year-old. (December)
Staten Island:
An Orthodox Jewish man was attacked by three assailants who hit the man in the head with a rock and stated, "Let's knock the yarmulke of his head. Let's kill this motherf—– (June)
About the ADL Audit
The Audit identifies both criminal and non-criminal acts of harassment and intimidation, including distribution of hate propaganda, threats and slurs. Compiled using information provided by victims, law enforcement and community leaders, and evaluated by ADL's professional staff, the Audit provides an annual snapshot of one specific aspect of a nationwide problem while identifying possible trends or changes in the types of activity reported. This information assists ADL in developing and enhancing its programs to counter and prevent the spread of anti-Semitism and other forms of bigotry.
The Anti-Defamation League, founded in 1913, is the world's leading organization fighting anti-Semitism through programs and services that counteract hatred, prejudice and bigotry.  Follow us on Twitter: @ADL_NY