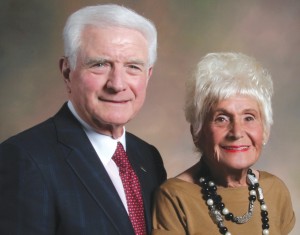 The A WORLD OF DIFFERENCE Institute® in Albany exists because of the generous support of Neil and Jane Golub.
Neil and Jane became personally involved with the ADL in the mid 1980's. Neil's support and Jane's tireless work led to the first ever K-12 A WORLD OF DIFFERENCE curriculum, which was adopted by the New York State Department of Education. This curriculum was critical to the development of ADL's A WORLD OF DIFFERENCE® Institute's anti-bias education programming used around the world.
Through the Golub's continued support, the Albany Regional Office has trained over 10,000 educators and students, who, as a result, have had an impact on countless others.
Most recently, the Golub's have brokered a partnership with ADL, WRGB-TV 6 Albany and Price Chopper Supermarkets, in conceiving and developing the No Place For Hate® series of print advertisement and public service announcements featuring community leaders and local celebrities in an effort to raise awareness about the risks of bullying and the importance of building respect.
In November of 2012, The ADL presented the ADL Americanism Award to Jane and Neil for demonstrating an unwavering commitment to education, fostering mutual respect and the promotion of ADL's vision of a world without hate.
Jane Golub passed away in April 2019. At the 2019 No Place for Hate recognition ceremony, it was announced that the award honoring outstanding educators in the program would be renamed The Jane Golub Star Educator Award in honor of Jane's continuous support of ADL's anti-bias programming and decades-long record of fighting bullying and intolerance in the Capital Region.