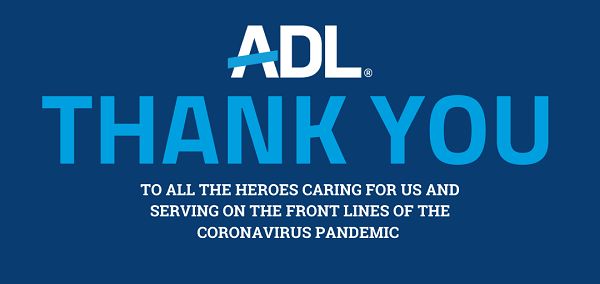 Dear Friends,
As an ADL family, we are working together to do our part to stop the spread of COVID-19 while continuing our important work. As we face these difficult times, we want to let you know our team is thinking of you and your families, and we hope you are healthy and safe. During this time, we believe it is our responsibility to:
Protect the health and well-being of our entire community: staff, volunteers, partners and event participants connected to our regional offices in the United States, Israel and Germany;
Continue to be vigilant in monitoring, reporting and combatting antisemitic and bias-related activity, including incidents and disinformation related to the outbreak and provide support to marginalized communities; and
Remain dedicated to our work with schools, law enforcement and with civil rights advocacy groups using technology solutions to keep programs running efficiently for those who need them.
ADL is actively engaging in social distancing. We have postponed all trainings and are transitioning meetings and programs to calls or videoconferences through the end of May. All ADL staff members are working remotely and remain accessible by phone and email. We greatly appreciate your understanding and support, as we know these steps are essential to stopping the spread of COVID-19.
Please know, ADL remains on the frontlines in the fight against hate. The coronavirus presents a global health threat, and the devastation it is causing has sparked misinformation and scapegoating. ADL is committed to sharing facts and pushing back against the inaccuracies and biases being spread online and offline.
We are speaking out against conspiracy theories and extremists, who capitalize on moments like this to advance their agendas and spread hateful rhetoric and fear. Furthermore, we encourage you to use and share ADL's educational guide to coronavirus. You can help ADL ensure discussions of the coronavirus crisis do not resort to stereotypes and xenophobia in your communities.
Please do not hesitate to contact our regional team at newyork@adl.org. As always, if you experience an incident of antisemitism or other hate or bias, please click here to report it.
As your partner, we are here for you and we will continue to share resources and information. We encourage you to follow ADL NY/NJ on Facebook and Twitter for daily updates.
Take good care of yourselves and your loved ones. We look forward to speaking with you soon.

Be well and be safe,
ADL NY/NJ Regional Team