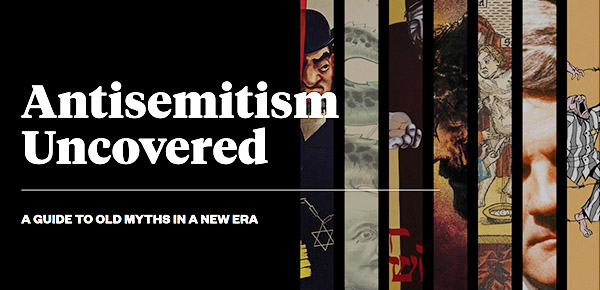 ADL released Antisemitism Uncovered: A Guide to Old Myths in a New Era. This comprehensive and important resource addresses questions and provides tools for understanding and changing the antisemitic narrative.
Antisemitism Uncovered focuses on seven of the most prominent antisemitic tropes that plague our society; power, dual loyalty, greed, deicide, the blood libel, Holocaust denialism, and anti-Zionism or delegitimization of Israel.
The guide identifies the history of these claims, explains why they are dangerous, and shows how they have evolved into the present day. Each section includes historical origins, contemporary incidents and ways to fight back against this type of antisemitism. By offering context and debunking myths, Antisemitism Uncovered seeks to educate us all about how the devastating lies of antisemitism have driven the persecution of Jews around the world.
You will also find practical resources in the guide's printable companion toolkit, which you can use to join ADL in combatting antisemitism wherever you find it, whether online, on campus, in the media or in your community.
We hope you will explore and share this resource. With this critical information, we can work together to stop the spread of antisemitism and call it out whenever and wherever it may arise.