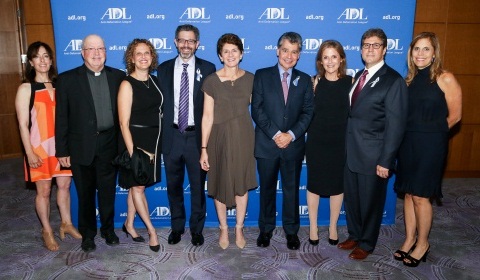 Last Thursday ADL's Westchester community gathered at the Ritz Carlton in White Plains to celebrate the mission and work of ADL in the region, and to honor several influential partners and leaders.
Gregg and Amy Mashberg received the 'Philanthropic Leadership Award' for their many years of dedication to the ADL and focus on Israel advocacy and educational initiatives. Rabbi Aaron Brusso was honored with the 'Making A Difference Award' for his tireless efforts to build bridges through interfaith programming. Rabbi Brusso partners with the ADL through our Bearing Witness program, teaching Catholic educators about Judaism through the Jewish perspective.
The evening ended with a special performance by The Mount Vernon Interfaith Choir, better known as the "City's Goodwill Ambassadors" for uniting the Mount Vernon community with inspiring music from diverse backgrounds.
We are thankful for the support of Westchester elected officials who attended the program, including Assemblywoman Shelley Mayor, County Executive Rob Astorino, Senator Andrea Stuart-Cousins, Assemblyman David Buchwald and Assemblywoman Amy Paulin. The 2nd Annual Event was a great success raising over $100,000 thanks to the leadership of Event Co-Chair Jill Weisfeld and Cindy Weissman and the rest of the Host Committee.