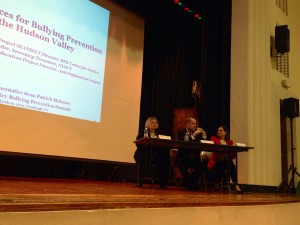 On March 22, 2014, Representative Sean Patrick Maloney hosted the Hudson Valley Bullying Prevention Summit in Newburgh, New York. Parents, students and teachers from schools in the surrounding counties were invited to attend. The summit offered participants specific tools and strategies for combating bullying and cyberbullying.
Throughout the day participants heard from students as well as various experts on the subject of bullying prevention. Beth Tidd, ADL's Associate Project Director in Albany served on the panel and presented on bullying prevention in schools.
ADL is grateful to Rep. Maloney for the chance to be a part of this day, which was an opportunity to educate the community about how they can be allies and help prevent bullying in their schools.