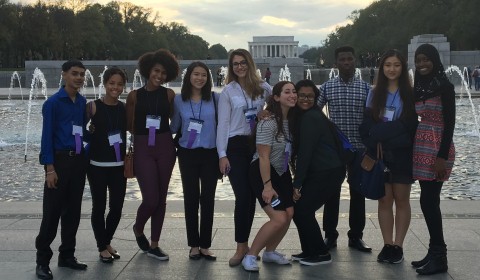 The National Youth Leadership Mission uses the U.S. Holocaust Memorial Museum as an educational tool to provide a substantive and effective program to help students apply the important lessons of the Holocaust to modern-day issues of bigotry and hate.
In November 2017, a diverse group of high school students from across the country who demonstrated leadership potential, interest in addressing issues of diversity, and ability to impart the message of the Mission onto others spent four days in Washington D.C. In addition to touring the U.S. Holocaust Memorial Museum, delegates participated in ADL's A WORLD OF DIFFERENCE® Institute activities, which provide an overview of the nature of bigotry and prejudice. Participants met with survivors of the Holocaust, survivors of the Rawandan Genocide, and a range of community leaders involved in civil rights efforts.
Through these and other exercises, participants acknowledge their responsibility to educate themselves and others, and are reminded that they possess the power—through their actions and behavior—to make a difference in the lives of others. Each delegate extends the lessons and experiences of the Mission by developing an action plan to share their new-found knowledge and leadership skills with their families, classmates, and other community members.