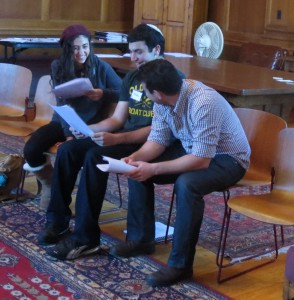 On September 23, 2014, ADL New York was at Cornell University to conduct an interactive education program titled Words to Action: Empowering Jewish Students to Address Bias on Campus.
ADL's Words to Action program is designed to empower and equip Jewish college students with constructive and effective responses to combat anti-Semitism and anti-Israel bias on campus.
Cornell's Jewish student leaders attended the program held in Cornell University's Anabel Taylor Hall, many saying that they were motivated to participate in the program as a result of concern over increasing anti-Israel sentiment on campus.
Discussions concentrated on defining anti-Semitism, anti-Israel bias, and anti-Zionism, and how these terms are distinct and interrelated. The group analyzed realistic scenarios, identified which forms of bias are portrayed, and discussed how this might affect possible responses. Students also worked to develop strategic responses.
Throughout the Words to Action program, student leaders were afforded the opportunity to have an open discussion with fellow members of the Jewish student community about why it is critical to be a positive voice for Israel on campus, and walked away with realistic response strategies to biased comments and incidents they might encounter on campus.
If you would like to learn more about ADL New York Region's Words to Action program click here, or contact Stephanie Merkrebs at smerkrebs@adl.org