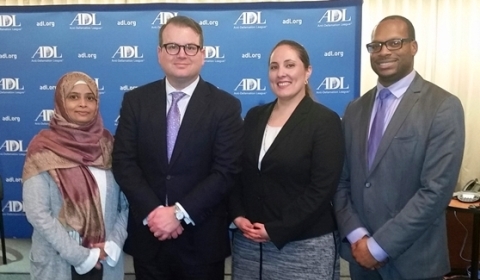 Interfaith/intergroup relations are fundamental and critical to ADL's dual mission: To stop the defamation of the Jewish people and to secure justice and fair treatment for all. These aims, by definition, can only be truly accomplished with the partnerships and mutual respect of other faith communities. That is why ADL's New York Region was thrilled to host a notable panel on interfaith and intergroup relations in NYC. It was a special program for our winter 2016 Board Meeting on February 24th that was attended by over 85 people. We were blessed to have on the panel—Julissa Gutierrez, Deputy Director of Constituency Affairs for Governor Cuomo's administration and former Northeast Director for Civic Engagement at the National Association of Latino Elected and Appointed Officials (NALEO); Sarah Sayeed, a Senior Advisor in the Community Affairs Unit of the Mayor's Office of New York City; and Diallo Shabbaz, Executive Director of 100 Black Men of New York. The panel moderator was the ADL New York Board Chairman, Andrew Frackman and the meeting was opened by New York Regional Director, Evan Bernstein.
We were equally blessed to have interfaith partners in the audience from the many diverse communities that we work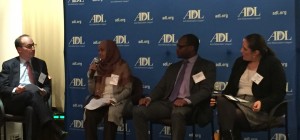 and have relationships with. Our interfaith partners represented the Muslim, Latino, African-American, Catholic, and Evangelical communities, among others. We were thrilled to welcome our colleagues from the Archdiocese of New York, Islamic Cultural Center School, Abyssinian Baptist Church in Harlem, and the Pakistani American Community of Long Island.
The panelists spoke about challenges in engaging their own constituency members as well as reaching other communities and bringing different perspectives to the table. They touched on movements that including the Boycott Divestment and Sanctions of Israel (BDS) movement, the Black Lives Matter movement, and immigration-related policies. Even when views differed, the opportunity to share and learn divergent perspectives in a safe space was invaluable.