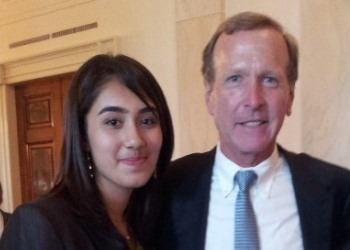 Date: July 23, 2013
Maryam Farooq, a 2013 ADL Summer Intern, became the youngest person to be honored by President Barack Obama with the 5,000th "Point of Light" award because of her work with ADL's No Place For Hate® initiative.
In 2011, Maryam founded a school chapter of No Place for Hate at her middle school and was recognized for her work with the Alexander Bodini Prize for Diversity at ADL New York's annual No Place For Hate Recognition Ceremony.
In her acceptance speech, she acknowledged that although she was never bullied at school, she saw classmates endure teasing and insults and knew she had to do something. She teamed up with a counselor at her school and went above and beyond the requirements to becoming No Place For Hate by helping her school complete seventeen activities that addressed bias and bullying in an effort to create a safer learning environment.
Nowadays, Maryam is hard at work bringing No Place For Hate to her high school and going one step further by introducing ADL's Peer Training to a group of 20 students at the school. With this training, Maryam and her fellow peer trainers have been able to travel to area schools to speak about the dangers of bullying. Check out her interview on PIX11 Morning News following her trip to the White House.