ABOUT
Led by Chair Karen Rosenfeld, ADL's New York Region unites Westchester residents who are dedicated to fulfilling ADL's mission: to stop the defamation of the Jewish people and to secure justice and fair treatment to all. The ADL hosts a number of events throughout Westchester during the calendar year, some in partnership with local institutions. Our annual fundraiser, 
ADL in Westchester
, takes place in the fall and brings together our generous supporters across the county to raise funds for ADL's critical programs.
UPCOMING WESTCHESTER EVENTS AND PROGRAMS
12/3.2017 – ADL in Westchester Securing Justice Awards Dinner
Registration is now closed.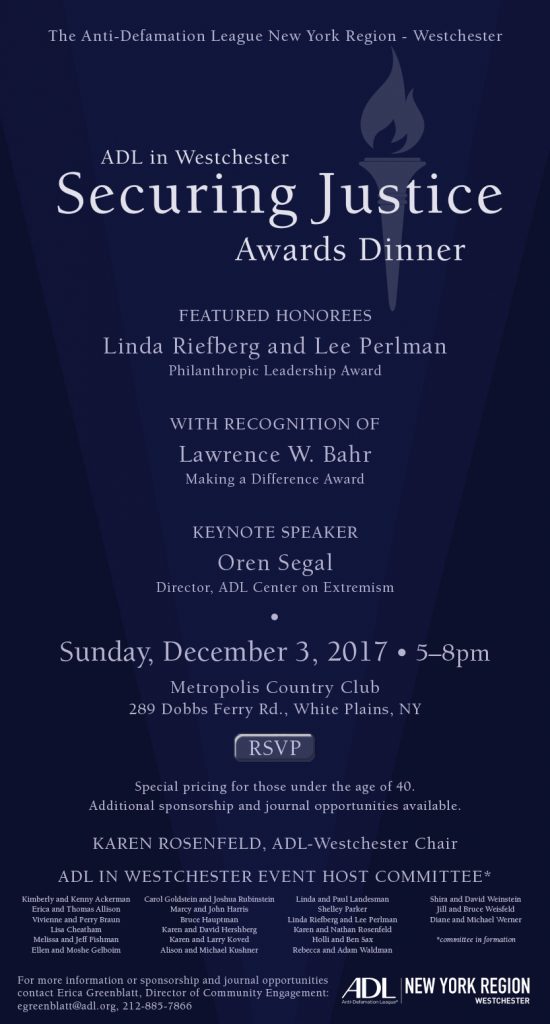 ADL'S IMPACT IN WESTCHESTER
Combatting Anti-Semitism
ADL empowers middle school, high school, and college students to combat and respond to anti-Semitism and anti-Israel bias through our Words to Action programs. Most recently, we facilitated programs at Westchester Reform Temple, Young Israel of Scarsdale, Congregation Bnai Yisrael, and JCC Harrison.
Preventing Bias and Bullying
ADL has partnered with 15 local schools with our anti-bias and anti-bullying programming. A WORLD OF DIFFERENCE® Institute is a leader in the development and delivery of anti-bias and anti-bullying training for pre-kindergarten through 12th grade students, educators and families. In addition, our No Place For Hate® initiative creates inclusive communities and empowers schools to challenge all forms of bigotry. For a full list of partner schools, click here.
Are you affiliated with a school, synagogue or JCC that would welcome ADL's educational programming? Please let us know.
Responding to Incidents
A leader in the fight against hate, we respond to anti-Semitic incidents and acts of bigotry wherever they may occur. Click here to view our most recent Annual Audit of Anti-Semitic Incidents. If you or anyone you know has experienced an incident of hate, please let us know.
To get involved with ADL in Westchester, please contact newyork@adl.org