The Anti-Defamation League and Siena College Co-Host the 11th Annual Students Together Opposing Prejudice (STOP) Conference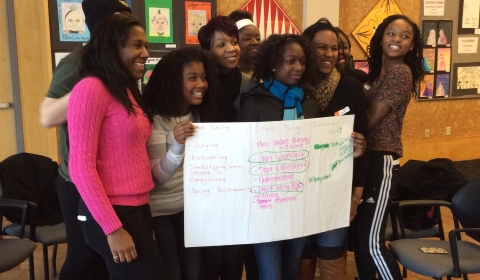 On January 9th, 2015 one hundred and forty students and twenty five educators from fourteen schools around the greater capital district of Albany, NY attended the 11th annual STOP Conference at Siena College. This conference is an extension of the college's Dr. Martin Luther King and Coretta Scott King Lecture series on non-violence.
The day commenced with students viewing an empowering slide show of social justice movements and change agents throughout history who have helped shape the world into a more accepting, respectful place. Students were then directed to close their eyes and to think about Respect; what does it look like, feel like, or sound like to them. They were then asked to reflect on how they as student leaders could impact their world by amplifying respect.
Students then participated in break out sessions led by ADL's A WORLD OF DIFFERENCE® Institute facilitators. Through interactive activities participants discussed their sense of identity, as well as how bias and stereotypes affect themselves and their school. This provided the opportunity for the participants to build relationships with students from communities that may be different from where they reside and created a platform for them to hear varying perspectives.
The afternoon was dedicated to action planning, the students worked with peers and advisors from their respective schools to brainstorm what they could stop doing, start doing and keep doing in their schools to infuse and maintain respect. In an open forum, participants then presented these empowering ideas to their peers from other school districts
The conference concluded with students being given the challenge to use social media as a positive means to amplify respect. Here are some of their inspiring tweets:
" STOP antagonizing, degrading comments, KEEP making people more confident, START sticking up for people"
"Fight the fight, even if it's not your fight" 
"I learned the importance of support and respect at the ADL STOP conference. The conference was an influential experience"