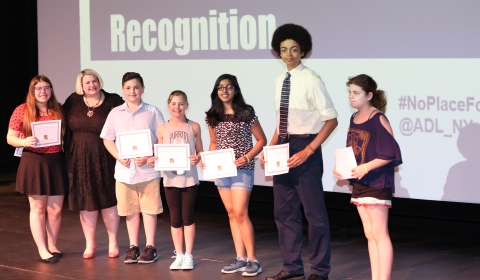 On Thursday, May 18th, ADL Albany recognized 45 schools from the Capitol Region as No Place For Hate® for their commitment to creating bias and bully-free, inclusive learning environments.
The recognition ceremony, held at the SUNY Albany Performing Arts Center, hosted over 350 students and educators who participated in the No Place Hate® program at their school and honored those who went above and beyond to stand up to bullying with Gold Star awards.
The ceremony also featured the renaming of ADL's esteemed award for outstanding community or school members as the 'Neil and Jane Golub Making A Difference Award' in recognition of their 30 years of being committed to to bringing ADL's Education work to the greater capital district.
ADL thanks award winning singer/songwriter Jared Campbell for his powerful performance that brought joy, hope, inspiration and fun to the ceremony, DA P. David Soares for his key note address and CBS6 Albany news anchors Liz Bishop and Greg Floyd CBS6Albany for being fantastic MCs!
Learn more about No Place For Hate® here: http://nynj.adl.org/albany-no-place-for-hate/