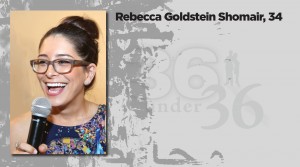 Rebecca Goldstein Shomair, ADL New York Region leader and founder of ADL's art exhibition, fundraiser and auction ArtWorks ADL: Justice, Advocacy & Art ™, has been recognized as one of the top emerging Jewish leader of her generation for the Jewish Week's 36 under 36.
Since 2009, the Jewish Week has been recognizing three dozen leaders a year who are reinventing the Jewish community through their philanthropic and professional involvement. As the founder of ArtWorks ADL, Rebecca and her fellow lay leaders have come together to "light the way through art" and to show the universality of ADL's mission. To learn more about Rebecca and her ADL journey, click here
To see how ArtWorks ADL is putting a new lens on ADL's mission, watch the New York Region's video.