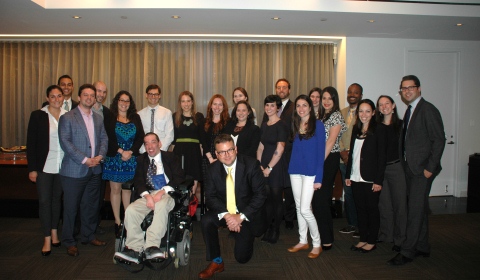 ADL New York was proud to host a graduation ceremony on June 2nd to celebrate this year's Glass Leadership Institute (GLI) class. The GLI is a nationally recognized leadership development program for a select group of young professionals. Over the course of nine months, GLI members participate in 10 interactive sessions lead by ADL professionals on  a broad range of ADL topics, including civil rights, education, and international affairs.
This year, ADL's New York Region enrolled 21 young philanthropic leaders in the 2015 GLI, and had the honor of awarding each one a diploma to signify their graduation from the program at Tuesday's ceremony.
After receiving their diplomas, the graduates were addressed by ADL New York Regional Director Evan Bernstein, Next Generation Philanthropy Co-Chair Emeritus, Jessica Garrett, 2015 GLI graduate Brooke Feldman and had a Keynote Speech on Israel and International Law by Author Edwin Black. The speakers touched upon the importance of engaging young leaders that are committed to ADL's mission – to stop the defamation of the Jewish people and to secure justice and fair treatment to all.
For additional  information about the Glass Leadership Program, contact Brian Hochberg, Development Coordinator- Donor Relations, at bhochberg@adl.org