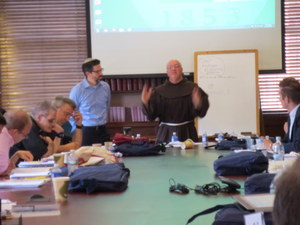 A group of 18 Catholic school educators from New York, New Jersey and Connecticut met at Manhattan College in Riverdale, NY from August 12-15 to learn about the history of anti-Semitism, the Holocaust and Catholic teachings on Jews and Judaism as part of the Bettina (z"l) and Erwin Pearl New York Bearing Witness™ Summer Institute.
            The Institute is sponsored by the Anti-Defamation League (ADL), in partnership with the Archdiocese of New York and the Museum of Jewish Heritage, and holds endorsements from the U.S. Conference of Catholic Bishops, dioceses throughout the tri-state area, and the National Catholic Education Association.
          "Bearing Witness provides the opportunity to deepen the partnership between the Catholic and Jewish communities, ensuring the remembrance of our difficult past but also cementing our currently positive relationships for the next generation," said Gregg Mashberg, ADL New York Regional Board Chair. Etzion Neuer, ADL Interim New York Regional Director, added that, "Bearing Witness serves as a profound example of the high level of cooperation, dialogue, and respect between the Jewish and Catholic communities in the New York Archdiocese and throughout the region – and of our potential for continued and increasing cooperation."
           As part of four days of intensive study designed to provide participants with the knowledge and skills to teach their students about the Holocaust, anti-Semitism and issues of prejudice in contemporary society, the educators learned from experts in the fields of Judaism, the Holocaust, historical and contemporary anti-Semitism, Catholic-Jewish relations and anti-bias education.  They also visited Museum of Jewish Heritage in Manhattan; participated in a full training course for "Echoes and Reflections," an award winning Holocaust curriculum designed in partnership with the Anti-Defamation League, the Shoah Foundation, and Yad Vashem; and broke bread at a model Sabbath dinner with members of the local Jewish community at the Hebrew Institute of Riverdale.
            Since its inception in 1996, ADL's Bearing Witness: Anti-Semitism, the Holocaust and Contemporary Issues has trained more than 1,700 Catholic school educators across the U.S. about the historical relationship between the Jewish and Catholic communities and the impact of that relationship on Catholic teaching, catechesis and liturgy.
            Bearing Witness has been cited by the Holy See as among the most important initiatives designed to improve Catholic-Jewish relations. It has also been recognized by the National Catholic Educational Association as a SPICE program (Selected Program for Improving Catholic Education), a designation conferred upon a handful of exemplary programs each year, and was given the National Catholic Educational Association (NCEA) President's Award in 2008.
            The Bettina (z"l) and Erwin Pearl New York Bearing Witness™ Summer Institute is part of the ADL's Braun Holocaust Institute, Glick Center for Holocaust Studies and is generously funded by Erwin and Sandra Pearl.

The Anti-Defamation League, founded in 1913, is the world's leading organization fighting anti-Semitism through programs and services that counteract hatred, prejudice and bigotry. Follow us on Twitter.