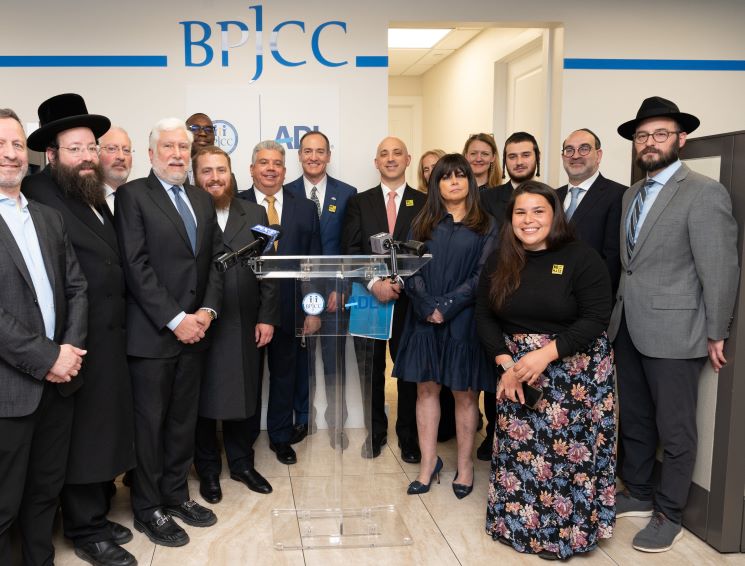 New York, NY, April 27, 2023… ADL (the Anti-Defamation League) today held a press conference celebrating the opening of its new satellite office at the Boro Park JCC in Brooklyn, New York to serve the widening needs of the local Jewish community in that borough, which has experienced a disproportionate rise in antisemitic attacks in recent years. The new office will respond directly to antisemitic incidents in Brooklyn, working with law enforcement and community leaders and tending bridges of understanding and acceptance. 
"This opening today represents our full commitment to the Jewish community of Brooklyn," said Jonathan A. Greenblatt, ADL CEO and National Director. "ADL's new office in Brooklyn will help us work directly with more people impacted by a terrible wave of violence. In New York City, visibly Orthodox Jews were targeted in 64 percent of all antisemitic assaults last year. The Brooklyn community has become one of the epicenters for antisemitism in this country and it requires a stronger ADL presence on the ground. Brooklyn is one of the great achievements of the diaspora – it should be a place where Jews are able to live, to worship, to raise their children, without fear of violence. And now from this office, ADL will work tirelessly to make sure that is the case for this generation, and for generations to come."  
ADL's recent Audit of Antisemitic Incidents, found that there were a total of 580 antisemitic incidents statewide, making New York State the highest in the country with a 39 percent spike over 2021. Of the 395 total incidents in the five boroughs in New York City, 147 occurred in Brooklyn alone including 52 antisemitic assaults. 
Nationwide, reported antisemitic incidents in 2022 reached an all-time high of 3,697, which represents a 36 percent increase.  
Among the incidents reported in Brooklyn in 2022: 
A Jewish student who had their kippah (skullcap) grabbed off their head by an individual when exiting their school bus (April).

 

A Hassidic Jewish school bus driver shot with a BB gun by a group of teenagers (May).

 

Another Jewish individual was shot with a BB gun in front of a synagogue by an assailant in a passing car (May).

 

A Jewish teenager who was standing in front of the Chabad headquarters in Brooklyn was approached by a woman and slapped in an unprovoked attack. (October)

 
"Brooklyn is the most Jewish place in the United States with over 600,000 Jews who call the borough home," said Scott Richman, ADL Regional Director for New York and New Jersey. "They are also an incredibly diverse community from devoutly orthodox Jews in Boro Park and Crown Heights, more liberal Jews in Park Slope, Russian-speaking Jews in Brighton Beach, Syrian Jews along Ocean Parkway and so many other distinct communities. We look forward to deepening our work in the Jewish community with our allies and partners to counter the rising tide of antisemitism and all forms of hate." 
The office serves as a satellite of the ADL New York/New Jersey Regional Office and will be staffed by both a senior member of the Regional Operations team and a new staff person for which the agency is now interviewing candidates. 
"With too many remaining on the sidelines as antisemitism continues to rise, ADL is to be lauded for stepping up to the plate and taking a firm stand against antisemitism and partnering with the Orthodox Jewish community in such a significant way," said Avi Greenstein, BPJCC CEO. "We look forward to working closely together and presenting a united front to combat and stand up to the face of evil."  
"As District Attorney, I believe very strongly that law enforcement by itself cannot solve all problems," said Brooklyn District Attorney Eric Gonzalez. "Partnerships like the Boro Park JCC partnering with ADL makes us all stronger and more able to combat this rise in hate and antisemitism. As law enforcement, we hold offenders accountable, we make sure these cases are prosecuted vigorously, and we send a clear and unequivocal message that hate and antisemitism are unacceptable, and if you conduct that behavior, there are going to be consequences." 
"Unfortunately, we are facing nearly daily reports of multiple hate crimes," said Devorah Halberstam, Chair of NYPD's Civilian Hate Crime Review Panel and Co-Founder and Director of External Affairs at the Jewish Children's Museum. "Silence in the face of hate means we condone hate, so does ignorance. It is unnerving that there is so much pervasive hatred between peoples in a country that was built on freedom and liberty. I stand with my colleagues in support of the work of ADL who is never silent in the face of hate. Opening an office in the center of where a targeted population lives is proof positive that ADL is doing something about it. They are the leaders in calling hate for what it is. I commend them and know that together there is hope for the future for our city and our country." 
ADL is the leading anti-hate organization in the world. Founded in 1913, its timeless mission is "to stop the defamation of the Jewish people and to secure justice and fair treatment to all." Today, ADL continues to fight all forms of antisemitism and bias, using innovation and partnerships to drive impact. A global leader in combating antisemitism, countering extremism and battling bigotry wherever and whenever it happens, ADL works to protect democracy and ensure a just and inclusive society for all. More at www.adl.org.