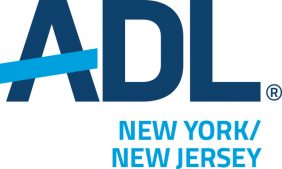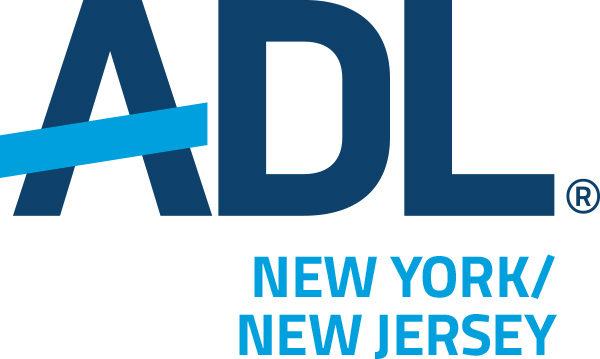 New York, NY, May 12, 2020… According to new data released by ADL (the Anti-Defamation League) today, antisemitic incidents rose by 26% in the state of New York in 2019, with assaults increasing a staggering 106%, approaching all-time highs for statewide recorded incidents.  
In a turbulent year culminating in a fatal attack against the Jewish community in Monsey, New York, ADL documented 430 antisemitic incidents in the state of New York during 2019. Antisemitic assaults increased 106%, from 17 in 2018 to 35 in 2019. New York State's total number of antisemitic incidents in 2019 represents a 51% increase in the state's average number of incidents recorded over the last decade.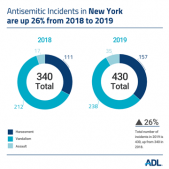 Nationwide, ADL recorded 2,107 antisemitic incidents in 2019, the highest number of incidents ever documented since ADL began tracking such data in 1979. A shocking 270 of these incidents were attributable to activities by known extremist groups or by individuals inspired by extremist ideologies – the highest number of antisemitic incidents with known connections to extremists or extremist groups since 2004. The national data also revealed a 56% increase in antisemitic assaults. Of these 61 antisemitic assaults reported, more than half—35—took place in New York State.  
"The antisemitic violence we observed in 2019, not only here in New York but also around the country, is absolutely devastating," said Alexander Rosemberg, Deputy Regional Director, New York/New Jersey Region. "In just one week in December, we observed near daily antisemitic attacks against the Orthodox community in Brooklyn. Slurs, harassment and physical attacks became the new norm. These incidents, coupled with the horrific stabbing in Monsey, are painful reminders that antisemitism remains a serious problem in NYC and across the state. All New Yorkers deserve safe communities, and we must work together to stop the spread of vicious hatred, violence and bigotry wherever they may be." 
INCIDENTS   
Since 1979, ADL has documented antisemitism through its annual Audit of Antisemitic Incidents.    
In 2019, ADL's Audit revealed the following in New York State:   
238

 incidents of vandalism; 

 

157 incidents of harassment; and

 

35

 incidents of assault. 

 
Antisemitic assaults rose by a staggering 106% in New York in 2019. The majority of the 35 assaults —25—occurred in Brooklyn, a continuing hotspot for antisemitic activity. Additional assaults occurred in Queens, Bronx, Nassau, Rockland and Orange Counties.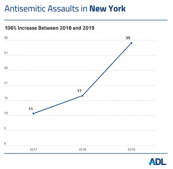 Of the 238 incidents of antisemitic vandalism reported in New York State in 2019, 124 incidents took place in public areas, including parks, public transit, sidewalks and playgrounds, an indication that perpetrators continue to feel emboldened to act on their hate out in the open. Nearly all of these incidents of vandalism involved the display of a swastika, which has served as the most significant and notorious of hate symbols, antisemitism and white supremacy for most of the world.  
ADL also documented an increase in incidents of vandalism involving Jewish institutions, up from 8 incidents in 2018 to 13 in 2019, as well as a rise in vandalism in K-12 schools, up from 17 incidents in 2018 to 35 in 2019.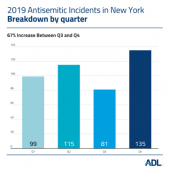 "The more that stereotyping, slurs, and bullying are normalized, the more conducive the climate becomes for acts of discrimination, vandalism and even violence," said Rosemberg. "No one should ever have to live in fear of being violently attacked, physically harmed, or verbally harassed simply because of their culture or faith. Every act of antisemitism and hate must continue to be called out and denounced by elected officials, community leaders, and all New Yorkers."   
Visit ADL's HEAT MAP to learn more about antisemitic incidents in New York State in 2019  
GEOGRAPHIC DATA   
Of the total number of antisemitic incidents reported in New York State, 75% took place in the five boroughs of New York City. And of the 321 incidents that took place specifically in New York City, 182 were incidents of vandalism, 107 were incidents of harassment and 32 were assaults.  
Brooklyn saw more incidents than Manhattan this year, as the location where most incidents occurred within the five boroughs.  
Incidents in both the Bronx and Westchester more than doubled, while Queens experienced a 75% increase in antisemitic incidents.  
Antisemitic incidents by area:  
Manhattan: 

112

 

Brooklyn:  

149

 

Queens: 

35

 

Bronx: 

12

 
Staten Island:

 13

 

Long Island:

 4

6

 

Westchester: 

2

1

 

 

Rockland: 4

 

Upstate: 38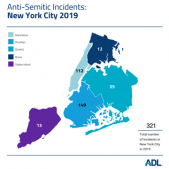 Acts of antisemitism have touched communities in 27 of the 62 counties in New York State. 
ASSAULTS IN BROOKLYN: DECEMBER 2019 
During 2019, New York State documented a disturbing 35 incidents of antisemitic assaults. During the month of December alone, ADL documented eight assaults in the borough of Brooklyn, all taking place within an eight-day span, between December 23rd and December 31st. These assaults were documented primarily in the neighborhoods of Williamsburg and Crown Heights, home to a large Orthodox Jewish population. All eight of these documented assaults were perpetrated against individuals who were visibly Jewish. Objects were thrown at victims, antisemitic slurs were yelled, and at least three victims were hit or punched in their heads or faces. Three of these documented assaults took place on one day in Crown Heights. Seven of the eight documented assaults occurred during the holiday of Hanukkah. All took place very shortly after the deadly attack in Jersey City, NJ and immediately before the stabbing attack in Monsey, NY.  
ATTACK IN MONSEY, NEW YORK 
According to police reports, Grafton Thomas entered a local rabbi's home in Monsey, New York, during a Hanukkah party on December 28, 2019, attacking attendees with a large knife. The attack left five injured, including Josef Neumann, who died of his injuries on March 29, 2020, three months after the attack.  
The attack began just as the rabbi was preparing to light the menorah to mark the seventh night of Hanukkah. Monsey, a town in Rockland County, outside New York City, is home to a significant Jewish population.  
According to police and media reports, Thomas entered the home on Saturday just before 10 pm, screaming, "I'll get you." It is alleged that he fled the scene after stabbing multiple people. He was apprehended two hours later in Harlem, reportedly covered in blood and smelling of bleach.  
On December 29, police in Ramapo, New York, charged Thomas with five counts of attempted murder and one count of burglary, to which Thomas pleaded not guilty. The following day, on December 30, federal prosecutors filed hate crime charges against Thomas. According to news reports, the Rockland County District Attorney announced that he would seek to charge Thomas with murder following the death of Josef Neumann.  
EDUCATIONAL INSTITUTIONS  
While antisemitic incidents decreased slightly on college campuses and universities in New York State, incidents in K-12 schools increased by 19% in 2019. 
K-12 Schools  
The number of antisemitic incidents in K-12 schools—43—increased 19% relative to 2018. The majority of these incidents were acts of vandalism, nearly doubling in number, from 17 in 2018 to 35 in 2019. 
"Students in New York deserve a safe, respectful and inclusive school environment, and the stark increase of antisemitic incidents on school grounds is deeply troubling, showing the need for strong anti-bias educational programming in our K-12 schools," said Rosemberg. "We continue to work with schools across New York State and are proud to help them combat antisemitism and all forms of hate."   
Campus and University 
New York State's universities and colleges experienced a decrease in antisemitic incidents, from 32 incidents in 2018 to 25 incidents in 2019. Twelve of these were incidents of harassment and 13 were incidents of vandalism.  
UNDERREPORTING 
Underreporting continues to be a challenge in many communities, as victims of bias crimes and antisemitic incidents are often reluctant to come forward. At the same time, we know that there is significant underreporting of hate crimes to the FBI, particularly where reporting remains voluntary by law enforcement agencies. In 2018, only 12.6% of reporting agencies in New York reported one or more hate crimes to the FBI. The remaining reporting agencies affirmatively reported zero hate crimes. While voluntary, ADL strongly encourages law enforcement agencies to report hate crime statistics to the FBI. ADL continues to work with elected officials, law enforcement leaders and community members across New York to tackle these problems head-on in the years ahead.   
ADL encourages all members of the public to report incidents of antisemitism to local law enforcement and directly to ADL here: Report an Antisemitic, Bias or Discriminatory Incident 
WHITE SUPREMACIST ACTIVITY  
White supremacist groups continued to maintain an active presence in New York in 2019, using propaganda to communicate their hateful messages more broadly. In 2019, ADL documented 172 distribution incidents in New York State. This represents a 157% increase from 67 incidents recorded in the state in 2018. Although only 18 propaganda distributions were overtly antisemitic and included in the Audit, the potential for all types of white supremacist activity to provoke fear and anxiety in Jewish communities should not be discounted. In 2019, the most active groups in New York State were Patriot Front and New Jersey European Heritage Association. 
At a national level, 270 antisemitic incidents were attributable to extremist groups or individuals inspired by extremist ideologies. This is the highest number of antisemitic incidents with known connections to extremists or extremist groups documented by ADL since 2004.   
How ADL is Responding 
ADL has a comprehensive approach to addressing antisemitic incidents and behavior, including educating youth to prevent these incidents and working with law enforcement to apprehend the perpetrators. ADL works to enact laws to improve federal, state, and local prevention tactics and response to antisemitic hate crimes and all forms of hate violence. For more information on ADL policy recommendations, visit: www.adl.org/audit2019  
The ADL Audit includes both criminal and non-criminal acts of harassment and intimidation, including distribution of hate propaganda, threats and slurs. Compiled using information provided by victims, law enforcement and community leaders, and evaluated by ADL's professional staff, the Audit provides a regular snapshot of one specific aspect of a nationwide problem while identifying possible trends or changes in the types of activity reported. This information assists ADL in developing and enhancing its programs to counter and prevent the spread of antisemitism and other forms of bigotry. 
ADL is a leading anti-hate organization. Founded in 1913 in response to an escalating climate of antisemitism and bigotry, its timeless mission is to protect the Jewish people and to secure justice and fair treatment to all. Today, ADL continues to fight all forms of hate with the same vigor and passion. ADL is the first call when acts of antisemitism occur. A global leader in exposing extremism, delivering anti-bias education and fighting hate online, ADL's ultimate goal is a world in which no group or individual suffers from bias, discrimination or hate. More at www.adl.org