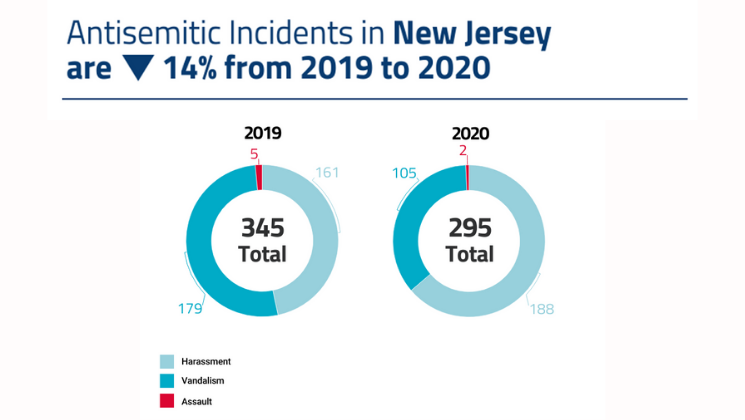 Contact: Alana Burman aburman@adl.org (332) 215-5966 for one-on-one interviews with an ADL NY/NJ representative.
REPORTED ANTISEMITIC INCIDENTS STILL AT HISTORIC HIGHS IN NEW JERSEY DESPITE 14% DECREASE IN 2020
Annual ADL Audit tracks 2,000+ antisemitic incidents across the U.S., third–highest annual total on record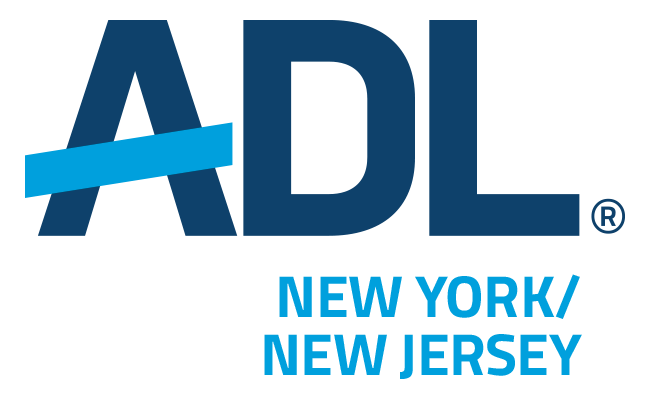 New York, NY, April 27, 2021 … According to new data released by ADL (the Anti-Defamation League) today, antisemitic incidents remained at historically high levels across the United States in 2020, with a total of 2,024 incidents of assault, harassment and vandalism reported, making 2020 the third-highest year for reported antisemitic incidents since ADL started tracking such data in 1979. While documented antisemitic incidents declined by 4% nationally and 14% in New Jersey after hitting an all-time high in 2019, last year was still the third-highest year for antisemitic incidents both in New Jersey and across the nation.
In a year of significant hardship due to the COVID-19 pandemic, ADL documented 295 antisemitic incidents across New Jersey.  While there was a notable decrease in incidents of antisemitic vandalism and assault in New Jersey, incidents of harassment increased 17%, extremist-related propaganda distribution incidents increased 14%, and incidents targeting Jewish institutions increased 39%.
Major New Jersey Findings:
In 2020, ADL documented a total of 295 antisemitic incidents across New Jersey, a 14%decrease relative to the 345 incidents recorded in 2019.
However, during the first quarter of 2020, just prior to and at the beginning of the COVID-19 pandemic, ADL recorded 96 antisemitic incidents – an 85% increase relative to the 52 reported incidents documented during the first quarter of 2019. After public health social distancing directives were instituted, antisemitic incidents each quarter dropped by an average of 33% relative to 2019 numbers.
Incidents recorded in the first quarter of 2020 include 2 assaults, 38 acts of vandalism, and 56 incidents of harassment, of which 12 were instances of white supremacist propaganda efforts by the New Jersey European Heritage Association (NJEHA). Many of these white supremacist propaganda incidents directly mentioned Israel, used Stars of David, or triple-parentheses to refer to Jewish people.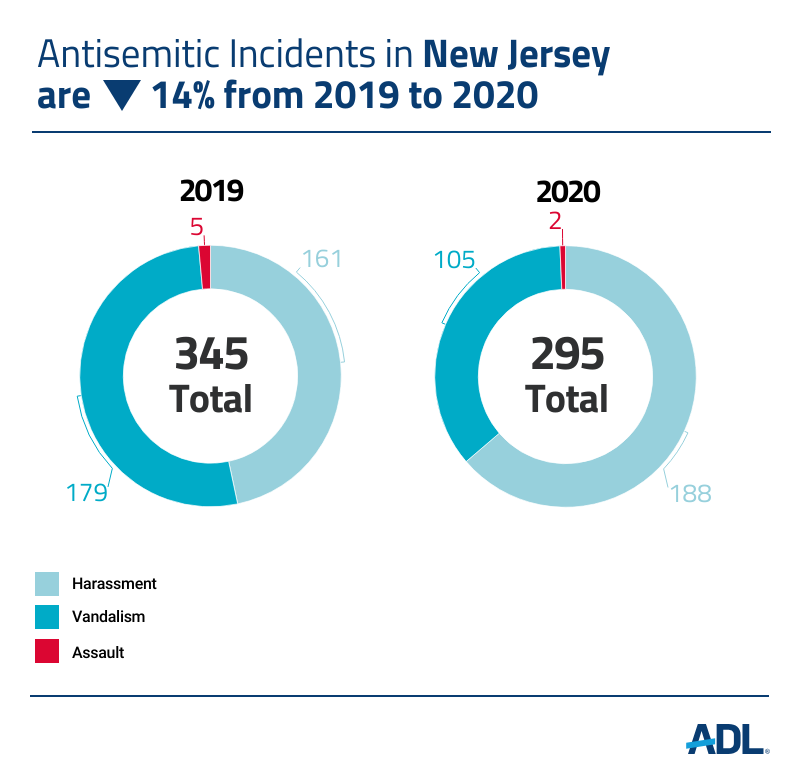 In total, ADL recorded the following antisemitic incidents in New Jersey in 2020:
Harassment:ADL recorded 188 incidents of antisemitic harassment in 2020, representing a 17% increase relative to 2019.  Swastikas were used during 27 of these harassment incidents.
Vandalism:ADL recorded 105 incidents of antisemitic vandalism in 2020, representing a 41% decrease relative to 2019. Swastikas were used in connection with 83 of these incidents.
Assault:ADL recorded 2 antisemitic assaults in 2020, down from 5 antisemitic assaults documented in 2019.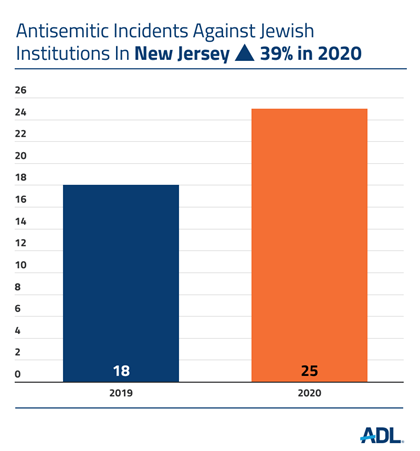 "While the pandemic thankfully corresponded with a decrease in antisemitic assaults in New Jersey, I am still shocked that there were any assaults targeting Jews last year, especially following the horrific shooting targeting a Kosher supermarket in Jersey City just before 2020," said NY/NJ Regional Director Scott Richman. "Sadly, the assault cases in 2020 in New Jersey involved both adults and children being specifically targeted for violence based on their Jewish identity."
Despite social distancing due to COVID-19, ADL recorded 2 antisemitic assaults in 2020. Notably, one of the assaults was documented to have taken place in a K-12 public school and involved a student who was reportedly targeted by a classmate for being Jewish.
Of the 295 antisemitic incidents recorded in New Jersey in 2020, 115 took place in public areas, 46 took place at business establishments, 32 took place at residences or houses, 25 took place at Jewish institutions, and 25 took place online.
Of particular concern was a 39% increase in documented antisemitic incidents against Jewish institutions, which included 22 incidents of harassment (a 28% increase relative to 2019).  Five of the incidents at Jewish institutions in 2020 involved a swastika.
ADL was also disturbed to see a 150% increase in reported antisemitic incidents online – from 10 reported incidents in 2019 to 25 reported incidents in 2020. The sharp increase is likely due, at least in part, to more interactions moving to digital platforms in light of the COVID-19 pandemic.
"While it is always a welcome sign to see a decline in reported antisemitic incidents, the sad reality is that even with social distancing and physical separation, antisemitic incidents continued to occur at near historic levels, with many incidents happening online," said Scott Richman, Regional Director, ADL New York/New Jersey. "As the data shows us, we must remain vigilant in our efforts to combat antisemitic words, behaviors, attitudes and actions in order to stem the rising tide of hate directed towards the Jewish community."
GEOGRAPHIC DATA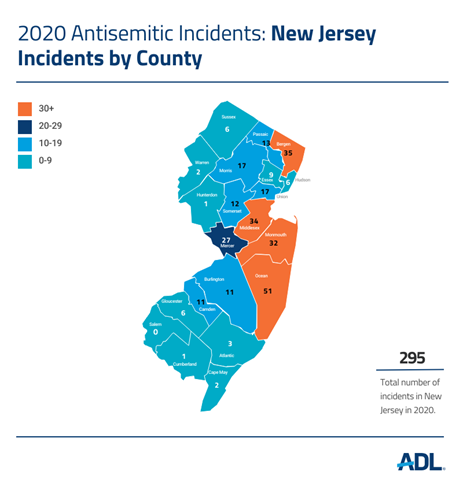 The top 5 New Jersey counties for documented antisemitic incidents in 2020 were Ocean (51), Bergen (35), Middlesex (34), Monmouth (32), and Mercer (27). Despite significant decreases from 2019, both Union and Morris Counties still had incidents in the double digits, with 17 each.
ADL also documented a dramatic, 93% increase in antisemitic incidents in Mercer County last year.  In Mercer County, the recorded incidents for 2020 were primarily in the form of white supremacist propaganda distribution efforts from the New Jersey European Heritage Association, with 14 of the 16 instances of antisemitic propaganda coming from NJEHA. Zoombombing incidents also made up a significant portion of reported incidents in Mercer County, with 4 separate instances.
Antisemitic incidents in Middlesex County also rose substantially – by 48% – in 2020. Middlesex County also saw a notable increase in incidents of white supremacist propaganda distribution, primary from NJEHA, as well as increased incidents of harassment, with 13 of the 34 incidents involving the distribution of white supremacist propaganda and 14 of the 34 incidents involving antisemitic harassment.
Acts of antisemitism have touched communities in 20 of the 21 counties in New Jersey.
ADL's Center on Extremism has gathered the complete 2020 data, as well as data from the previous two years, on ADL's H.E.A.T. Map, an interactive online tool that allows users to geographically chart antisemitic incidents and events nationally and regionally.
ZOOMBOMBING & COVID-19
The year was dramatically impacted by the COVID-19 pandemic, which led in some cases to Jews and other marginalized communities being blamed or scapegoated for spreading the virus. After the pandemic became more widespread starting in March 2020, incidents of antisemitism at schools and colleges dropped precipitously as learning moved online.
This corresponded with an increase in incidents of antisemitic "Zoombombing" – the intentional disruption of live videoconferences. In 2020, ADL recorded 196 Zoombombing incidents nationally. Of those incidents, 114 targeted Jewish institutions such as schools and synagogues.
In New Jersey, there were 18 reported antisemitic "Zoombombing" incidents, comprising nearly 7% of all reported antisemitic incidents in the state last year.  Most of these incidents targeted Jewish schools or institutions, and six involved the display of a swastika.
"Last year, ADL recorded a dramatic uptick in reported antisemitic incidents taking place online, including in the form of "Zoombombing,"said ADL NY/NJ Regional Director Scott Richman. "In the era of COVID-19, the virus of antisemitism has mutated to find new ways to target and harm the Jewish community."
In addition to rising antisemitism online, the pandemic also led to an increase in antisemitic activity targeting Jews for having spread COVID-19. Documented COVID-19 related antisemitic incidents in New Jersey totaled 10, with 9 incidents of harassment and one incident of vandalism.
EDUCATIONAL INSTITUTIONS
In January and February 2020, antisemitic incidents in schools, colleges and universities were reported at significantly higher levels than they were during the same period in 2019. Those numbers dropped precipitously as educational institutions across the nation switched to remote learning.
K-12 Schools
K-12 schools in New Jersey saw a 60% decrease in documented antisemitic incidents, down from 97 in 2019 to 39 in 2020. The decrease is likely due, in part, to the closing of schools for in-person instruction and activities for most of the year due to COVID-19.
Reported antisemitic vandalism in K-12 settings had the greatest decline, dropping from 73 reported incidents in 2019 to 21 reported incidents in 2020. Reported antisemitic harassment dropped only 29% in 2020 – from 24 incidents reported in 2019 to 17 incidents reported in 2020. This lesser decrease may be due, at least in part, to students still interacting and communicating online where the harassment could still take place.
Despite the absence of in-person instruction for most of the year, there was one recorded K-12 assault, where a student was reportedly targeted by a classmate and assaulted for being Jewish.
"Students across New Jersey deserve a safe school environment, both in person and remotely, and while the numbers have decreased, it is disheartening to think that one of the reasons they did so was because students were physically separated from one another," Richman said. "Our ultimate goal is helping to create safe and inclusive school climates to ensure that no student suffers from bias, discrimination or hate, and we look forward to continuing our work with educators in New Jersey to help them combat antisemitism and all forms of hate."
Of the 39 incidents in K-12 schools, 26 involved the use or display of a swastika. Three of the swastika incidents took place online.
Of the 13 reported antisemitic incidents not involving swastikas, three were categorized as Zoombombings and two took place online. This means that nearly 13% of all reported incidents in K-12 schools for 2020 took place online. This is a significant increase from zero reported online K-12-based incidents in 2019 and shows the degree to which such behavior moved online in the wake of the COVID-19 pandemic.
Campus and University
While college and universities experienced a 21% decrease in recorded antisemitic incidents in 2020, incidents of harassment remained consistent from 2019 with 6 reported, likely due to interactions simply shifting to a virtual environment in light of the pandemic.  Altogether in 2020, there were four reported incidents of antisemitic propaganda distribution, four incidents of swastika-based antisemitic vandalism to campus facilities, two incidents of targeted antisemitic harassment, and one antisemitic Zoombombing incident on college campuses. Three incidents at Rutgers University involved the distribution of NJEHA propaganda; one incident at Princeton University involved the distribution of Patriot Front propaganda.
Of the 11 antisemitic incidents reported on campuses in 2020, five involved the use or display of the swastika. One of these incidents involved the Zoombombing of an online Holocaust and genocide education program with swastikas and racist slurs.
EXTREMISM AND WHITE SUPREMACIST ACTIVITY
White supremacist groups continued to maintain an active presence in New Jersey in 2020, despite the COVID-19 pandemic.  Indeed, extremism-related antisemitic activity increased 14% last year, from 36 incidents recorded in 2019 to 41 incidents recorded in 2020. This increase has undoubtedly contributed to a climate of fear and anxiety, even for nontargeted identity groups, empowering those already harboring these hateful views.
In 2020, ADL documented an increase in flyering, stickering, and other recorded white supremacist propaganda activity, including incidents targeting businesses.
NJEHA in particular, continued to be active throughout the state and elsewhere, driving both increases in documented extremist-related antisemitic activity and overall white supremacist propaganda distribution incidents. Of the extremist-related incidents reported in New Jersey in 2020, 37 involved the NJEHA.
Of the extremist-related incidents reported in New Jersey in 2020, 40 involved the distribution of propaganda. Only one instance reported in 2020 took place online – a Zoombombing incident of a synagogue that occurred during a virtual Passover Seder and involved the display of a swastika.
Notably, of the 41 extremist-related antisemitic incidents, 11 incidents included references to Israel or Zionism; 11 directly referenced Jews, Judaism, or the Jewish people collectively; four used Stars of David; five used triple-parentheses to reference antisemitic conspiracy theories; and 2 referenced antisemitic conspiracy theories regarding George Soros.
One reported extremism incident involved the KKK and another involved Patriot Front.
At a national level, ADL's Audit recorded 331 antisemitic incidents attributed to known extremist groups or individuals inspired by extremist ideology. This represents 16% of the total number of antisemitic incidents recorded last year. White supremacist groups were responsible for 277 antisemitic propaganda distributions. Other extremist activity included provocations by the Goyim Defense League, a loose network of individuals connected by their virulent antisemitism.
ELECTION-RELATED HATE
The most notable documented election-related antisemitic incident in 2020 involved a fake account posing as Congresswoman Bonnie Watson Coleman calling on her supporters to "not buy from Jews."
Overall, ADL documented experienced 4 separate instances of election-related antisemitism in New Jersey in 2020.
ISRAEL-RELATED INCIDENTS
Nationwide, a total of 178 antisemitic incidents in 2020 involved references to Israel or Zionism, compared to 175 in 2019. Of those, 38 appeared in connection with white supremacist propaganda efforts, which often attempt to foment anti-Israel and antisemitic beliefs.
In New Jersey, ADL documented 20 antisemitic incidents relating to Israel or Zionism. These documented incidents included 17 harassment cases and 3 vandalism cases across a variety of locations. Of the 17 harassment incidents, 13 involved extremism; all 3 of the recorded vandalism incidents were extremist-related.
Of the 20 incidents related to Israel or Zionism, 16 were cases of extremist propaganda distribution. The remaining four all took place online and involved an individual experiencing targeted antisemitic harassment tied to anti-Israel messaging.
UNDERREPORTING
Underreporting continues to be a challenge in many communities, as victims of bias crimes and antisemitic incidents – particularly those in marginalized communities – face significant barriers to reporting hate crimes in the first instance. At the same time, we know that there is significant underreporting of hate crimes to the FBI, particularly where reporting remains voluntary by law enforcement agencies. In 2019, only 37.4% of reporting agencies in New Jersey reported one or more hate crimes to the FBI. While voluntary, ADL strongly encourages law enforcement agencies to report hate crime statistics to the FBI. ADL continues to work with elected officials, law enforcement leaders and community members across New Jersey to tackle these problems head-on.
ADL encourages all members of the public to report incidents of antisemitism directly to ADL here: Report an Antisemitic, Bias or Discriminatory Incident.
How ADL is Responding
ADL has a comprehensive approach to addressing antisemitic incidents and behavior.  This includes prevention efforts through youth education, as well as working to enact laws to improve federal, state and local prevention tactics and response to antisemitic hate crimes and all forms of hate violence.
ADL also partners with law enforcement to raise awareness of extremist threats and help law enforcement professionals recognize and disrupt potential threats. ADL likewise provides education and training every day to students, reaching young people at a time when they are most vulnerable to bullying and social pressures. ADL works with victims and universities to respond to antisemitic harassment and other worrying incidents on college campuses. Finally, ADL's No Place for Hate and Words to Action programs teach understanding and promote inclusivity in schools and on campuses.
In response to the historic rise in antisemitic incidents over the past four years, ADL has made the following policy recommendations:
Nationwide, public officials and civic leaders should use their bully pulpits to speak out against antisemitism and all forms of hate and extremism
Congress should increase funding for non-profit security grants for synagogues and other houses of worship, schools, and community centers.
Policymakers must support efforts to provide law enforcement officials with the tools they need to prevent and effectively respond to hate crimes. Federal, state and local law enforcement agencies should also improve their procedures for responding to and reporting hate crimes.
Congress should approve the pending Jabara-Heyer NO HATE Act and fully fund Section 4704 of the Matthew Shepard and James Byrd, Jr. Hate Crimes Prevention Act to support state and local law enforcement authorities investigating and prosecuting hate crimes.
School districts should promote anti-bias, bullying prevention and Holocaust education programs in elementary and secondary schools. University leadership should respond firmly and forcefully to antisemitic acts on college campuses, including incidents that target Jewish students because of their actual or perceived support of the state of Israel.
Congress, the U.S. Department of Education, state legislators and mayors should increase funding for anti-bias education to promote an inclusive school climate.
In response to the rising threat of domestic extremism in the wake of the Jan. 6 insurrection at our nation's Capitol, ADL recently announced the PROTECT plan, which outlines a whole of society approach to address this pernicious threat.
The ADL Audit includes both criminal and non-criminal acts of harassment and intimidation, including distribution of hate propaganda, threats and slurs, as well as vandalism and assault. Compiled using information provided by victims, law enforcement and community leaders, and evaluated by ADL's professional staff, the Audit provides a regular snapshot of one specific aspect of a nationwide problem while identifying possible trends or changes in the types of activity reported. This information assists ADL in developing and enhancing its programs to counter and prevent the spread of antisemitism and other forms of bigotry.
The Audit of Antisemitic Incidents is a project of ADL's Center on Extremism, whose work is supported in part by the following generous donors as well as numerous others: The ADL Lewy Family Institute for Combating Antisemitism, Anonymous, Roman Abramovich, Catena Foundation, Charles and Mildred Schnurmacher Foundation, Crown Family Philanthropies, David Berg Foundation, Joyce and Irving Goldman Family Foundation, Lillian and Larry Goodman Foundations, The Marlene Nathan Meyerson Family Foundation, The Nancy K. Silverman Foundation, Nathan Cummings Foundation, New England Revolution Foundation, Quadrivium Foundation, Zegar Family Foundation.
---
ADL is a leading anti-hate organization. Founded in 1913 in response to an escalating climate of antisemitism and bigotry, its timeless mission is to protect the Jewish people and to secure justice and fair treatment to all. Today, ADL continues to fight all forms of hate with the same vigor and passion. ADL is the first call when acts of antisemitism occur. A global leader in exposing extremism, delivering anti-bias education and fighting hate online, ADL's ultimate goal is a world in which no group or individual suffers from bias, discrimination or hate. More at www.adl.org.