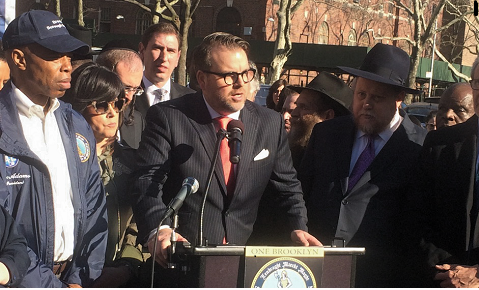 New York, NY, April 22, 2018… In response to two alleged attacks against Orthodox Jewish men in Brooklyn, the Anti-Defamation League (ADL) announced today it is offering $5,000 rewards for information leading to the arrests and convictions of the individuals responsible. 
Two separate, unprovoked attacks against visibly Jewish men in Brooklyn over the last week have rattled the Crown Heights community. According to police and media reports, early 
Saturday morning
 April 14, an Orthodox Jewish man was assaulted in Crown Heights, near the headquarters of the Chabad movement, and subsequently hospitalized with a broken nose. 
Yesterday
, April 21, a second Orthodox Jewish man was reportedly chased and assaulted near Kingsbrook Jewish Medical Center, near Crown Heights. ADL has been in contact with the NYPD and the leadership of Chabad-Lubavitch in the aftermath of both attacks.
"We unequivocally condemn these senseless assaults," said Evan R. Bernstein, ADL New York Regional Director. "We appreciate the leadership of the NYPD Hate Crimes Task Force who are investigating these assaults as hate crimes. Hopefully these rewards will encourage anyone who may have seen something to come forward."
ADL tracked 11 incidents of assaults motivated by anti-Semitism across New York State in 2017, seven of which occurred in Brooklyn. Statewide, incidents of anti-Semitism jumped over 90% in 2017.
"It is crucial the Crown Heights community stands together in the wake of these vicious attacks," Bernstein continued, "as the NYPD conducts thorough investigations."
Anyone with information about this assault is urged to call the NYPD Crime Stoppers Hotline at 1-800-577-TIPS.
The Anti-Defamation League was founded in 1913 to stop the defamation of the Jewish people and to secure justice and fair treatment to all. Today it is the world's leading organization combating anti-Semitism, exposing hate groups, training law enforcement on hate crimes, developing anti-bias curricula for students, countering cyber-hate and relentlessly pursuing equal rights for all. Follow us on Twitter: @ADL_NY