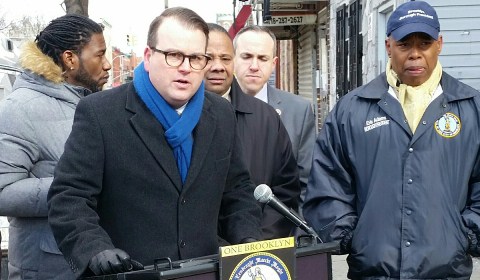 New York, NY, February 10, 2016 … The Anti-Defamation League (ADL) today expressed shock and horror over the stabbing of a 25 year-old Jewish man in the Crown Heights neighborhood of Brooklyn, and subsequently offered a $5000 reward for information leading to the arrest and conviction of the perpetrator.
This is the second such attack in Crown Heights. In November, a Jewish man was slashed in the shoulder by an assailant who quickly fled the scene following the assault.
According to reports, Yehuda Brikman was the victim of the stabbing attack today near Empire Boulevard and Kingston Avenue. Brikman was taken to Kings County Hospital and is currently in a stable condition. The knifing is being investigated as a possible bias incident by NYPD's Hate Crimes Task Force.
Evan R. Bernstein, ADL New York Regional Director, and Andrew Frackman, ADL New York Regional Board Chair, issued the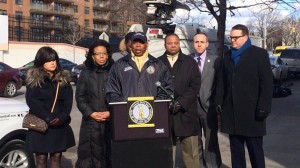 following statement:
            Brooklyn's Jewish community is once again suffering from apparent targeted acts of hate with this latest stabbing in Crown Heights. This alleged hate crime is just one in a series of traumatic attacks over the past several months in which Jews across the city, especially in Brooklyn, have been singled out for violence.
While we have not documented a rise in the overall numbers of anti-Semitic incidents in New York City, we are seeing a troubling pattern in which members of the Jewish community in Brooklyn are experiencing the worst kind of anti-Semitism.
Enough is enough. Our community leaders, religious leaders across all faiths, and elected officials have a critical role to play when incidents of this nature occur. They must make clear with increased vigor that acts motivated by anti-Semitism or any kind of bigotry will not be tolerated on our streets. In the wake of such frightening attacks, immediately standing up to bias crimes or prejudice against any religious, cultural or ethnic group is a critical step in reducing the probability of incidents recurring.
 We are committed to turning the tide on this latest distressing pattern of anti-Semitic incidents across the borough.
After the November stabbing, the League stood in solidarity with a wide range of Brooklyn community leaders, including elected officials and their constituents from various neighborhoods.
ADL has documented at least a dozen alleged anti-Semitic incidents in New York City since September 2015.
The Anti-Defamation League, founded in 1913, is the world's leading organization fighting anti-Semitism through programs and services that counteract hatred, prejudice and bigotry.  Follow us on Twitter: @ADL_NY