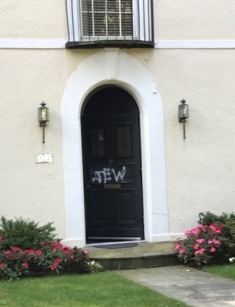 New York, NY, September 11, 2017 … The Anti-Defamation League (ADL) today condemned the anti-Semitic vandalism of a Jewish family's home in the Fieldston neighborhood of Riverdale, New York, in which the word "Jew" was discovered spray-painted across the front door of a private residence.
ADL was alerted to the vandalism, which was first discovered by the homeowner on September 10, shortly thereafter and has been in close contact with NYPD, the family whose home was targeted, as well as local community members. Riverdale is home to a large Jewish community, including several Jewish schools and synagogues.
"It is horrifying that one's place of residence would be targeted, attacked and singled out in such a way," said Evan R. Bernstein, ADL New York Regional Director. "Elected officials, community leaders and clergy must continue to step up and denounce this appalling act of hate and consistently condemn anti-Semitism and bigotry whenever it surfaces in New York City. We appreciate NYPD's swift and robust response, particularly its Hate Crimes Task Force, and hope the investigation leads to an arrest soon."
ADL's annual Audit of Anti-Semitic Incidents found a 50 percent increase in instances of anti-Jewish vandalism across New York State from 2015 to 2016.
The Anti-Defamation League was founded in 1913 to stop the defamation of the Jewish people and to secure justice and fair treatment to all.  Today it is the world's leading organization combating anti-Semitism, exposing hate groups, training law enforcement on hate crimes, developing anti-bias curricula for students, countering cyber-hate and relentlessly pursuing equal rights for all. Follow us on Twitter: @ADL_NY