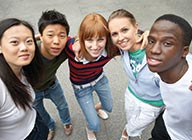 September 11, 2013
Some of the leading experts in the field of bias prevention will present in a series of six free educational webinars titled "Building Respectful School Climates," sponsored by the Anti-Defamation League (ADL) as part of its centennial celebration.
The series, free to the public, strives to equip parents, students, and primarily educators with tools and strategies necessary to address bias and bullying in the classroom. The subjects covered are broad in scope, from bias and bullying to Holocaust education to making sure religious holidays are inclusive.
Each of the sessions will be taught by an expert from ADL's A WORLD OF DIFFERENCE® Institute, a leading provider of anti-bias education, in conjunction with noteworthy authors and experts in the field.
"We know that there is a connection between bullying and biased attitudes. These webinars serve as an excellent resource for educators to build strategies and tools to effectively counter bias," said David S. Waren, ADL Director of Education. "We hope that by providing these open informative sessions, we can raise public awareness on the dangers of discriminatory behavior, and ultimately reduce instances of bias and bullying that have been so prevalent in schools."
The following webinars will be offered:
Facing Bias and Bullying: Educational Responses featuring Eva Vega-Olds, ADL Education Project Director; Beth Yohe, ADL Director of Training; and Carrie Goldman, author of Bullied: What Every Parent, Teacher and Kid Needs to Know About Ending the Cycle of Fear
             Date: Wednesday, September 11, 2013 
             Time: 4:00 P.M. EDT
Empowering Students to Combat Bullying featuring Hollande Levinson, ADL Education Project Director, and Stan Davis, author of Empowering Bystanders in Bullying Prevention
              Date: Tuesday, September 17, 2013 
              Time: 4:00 P.M. EDT
Making the Holocaust Relevant Through Visual History Testimony featuring Deborah Batiste, ADL Education Project Director; and Brandon Haas of the USC Shoah Foundation
              Date: Wednesday, October 2, 2013 
              Time: 4:00 P.M. EDT
The December Dilemma: Navigating Religious Holidays in the Public Schools featuring Naomi Mayor, ADL Assistant Director of Training and Curriculum; David Barkey, ADL National Religious Freedom Counsel; and Linda Buchman, school administrator
              Date: Wednesday, October 23, 2013 
              Time: 4:00 P.M. EDT
Using an Anti-Bias Lens to Examine Early Childhood Children's Books in Your Program featuring Linda A. Santora, ADL Director of Early Childhood Education Programs; and Cheryl Kilodavis, author of My Princess Boy, presented in partnership with Early Childhood Investigations and Follett Early Learning
             Date: Wednesday, November 6, 2013 
             Time: 2:00 P.M. EST
Bullying on Campus in the Electronic Age featuring Debbie Stogel, ADL Director of Campus and Workplace Programs; and Beth Yohe, ADL Director of Training
              Date: Wednesday, November 20, 2013 
              Time: 4:00 P.M. EST
Combating bigotry and bias is part of ADL's long-standing mission. To register, visit www.adl.org/education-outreach/education-webinars.