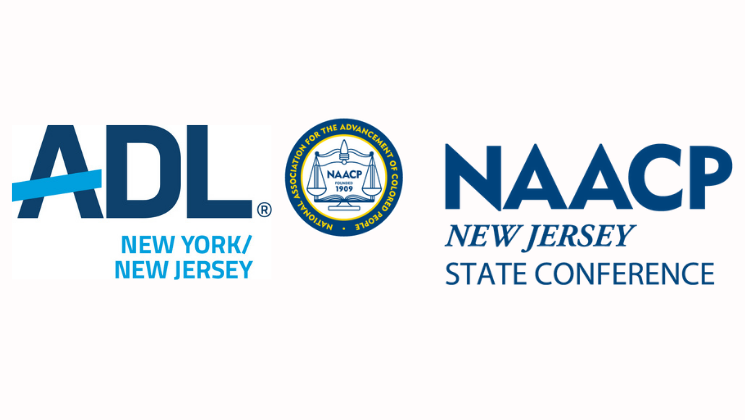 New Jersey, February 3, 2021 …ADL NY/NJ Region (the Anti-Defamation League) and the New Jersey Chapter of the National Association for the Advancement of Colored People (NJ NAACP) today signed an agreement to expand efforts to collectively combat discrimination, bigotry, bullying and hate crimes in New Jersey.
The Memorandum of Understanding (MOU) between ADL NY/NJ and NJ NAACP commences the second phase of a multi-year partnership working to fight back against the rising tide of hate crimes and discrimination facing marginalized communities in this state.
The agreement was signed today by Richard Smith, President of NJ NAACP, and Scott Richman, ADL's NY/NJ Regional Director.
"We will fight racism wherever it rears its ugly head and we will call out anti-Semitism where we see it. We will not allow anyone or anything to drive a wedge between our communities. Over the long haul of the years, we both have proven that we are too strong for that," NJ NAACP President Richard Smith stated. "Today we re-embrace the spirit of oneness and leave here committed, like never before, to walk, march and fight arm-in-arm as one. We agree that coming together is a beginning, staying together is progress and working together is success."
The partnership is rooted in shared values between ADL and the NJ NAACP: opposing hate and discrimination; promoting safe and inclusive communities, and protecting people's civil rights.
"For over a century, ADL and the NAACP have been united in a shared mission to ensure equal rights and dignity under the law," noted ADL NY/NJ Regional Director Scott Richman.  "We know that the communities we represent face a common enemy in white supremacy and hate, and that we must face this threat by working together."
As part of the partnership, ADL and NJ NAACP will launch a series of town halls and listening sessions throughout the state to raise awareness among different New Jersey communities about the two organizations' collaboration and the importance of identifying and reporting incidents of bias and hate. The campaign also aims to build bridges of acceptance and understanding among ADL and NAACP constituents, and to respond with a united voice to racism, antisemitism, and all forms of hate in New Jersey.
To mark this momentous occasion, Senator Cory Booker had a message for the signing to show his support for two civil rights groups.
"This pledge by the ADL and NAACP to build a stronger and more just society together speaks not only to the history of collaboration between the Black and Jewish communities, but also this moment in history," said U.S. Senator Cory Booker. "We are facing trying times, but by joining together we can fight the scourge of white nationalism and intolerance in our nation as we march towards equality and justice for all."
In 2019, ADL tracked 2,107 antisemitic incidents, more than recorded at any other point in the last 40 years. According to recent FBI hate crime data, 2019 was the deadliest year on record with 51 hate crime murders – a 113-percent increase over the previous record of 24 set in 2018. Race-based hate crimes remained the most common type of hate crime (54%), as has been the case every year since the FBI began reporting hate crime data.
ADL is a leading anti-hate organization. Founded in 1913 in response to an escalating climate of anti-Semitism and bigotry, its timeless mission is to protect the Jewish people and to secure justice and fair treatment for all. Today, ADL continues to fight all forms of hate with the same vigor and passion. ADL is the first call when acts of anti-Semitism occur. A global leader in exposing extremism, delivering anti-bias education and fighting hate online, ADL's ultimate goal is a world in which no group or individual suffers from bias, discrimination or hate.