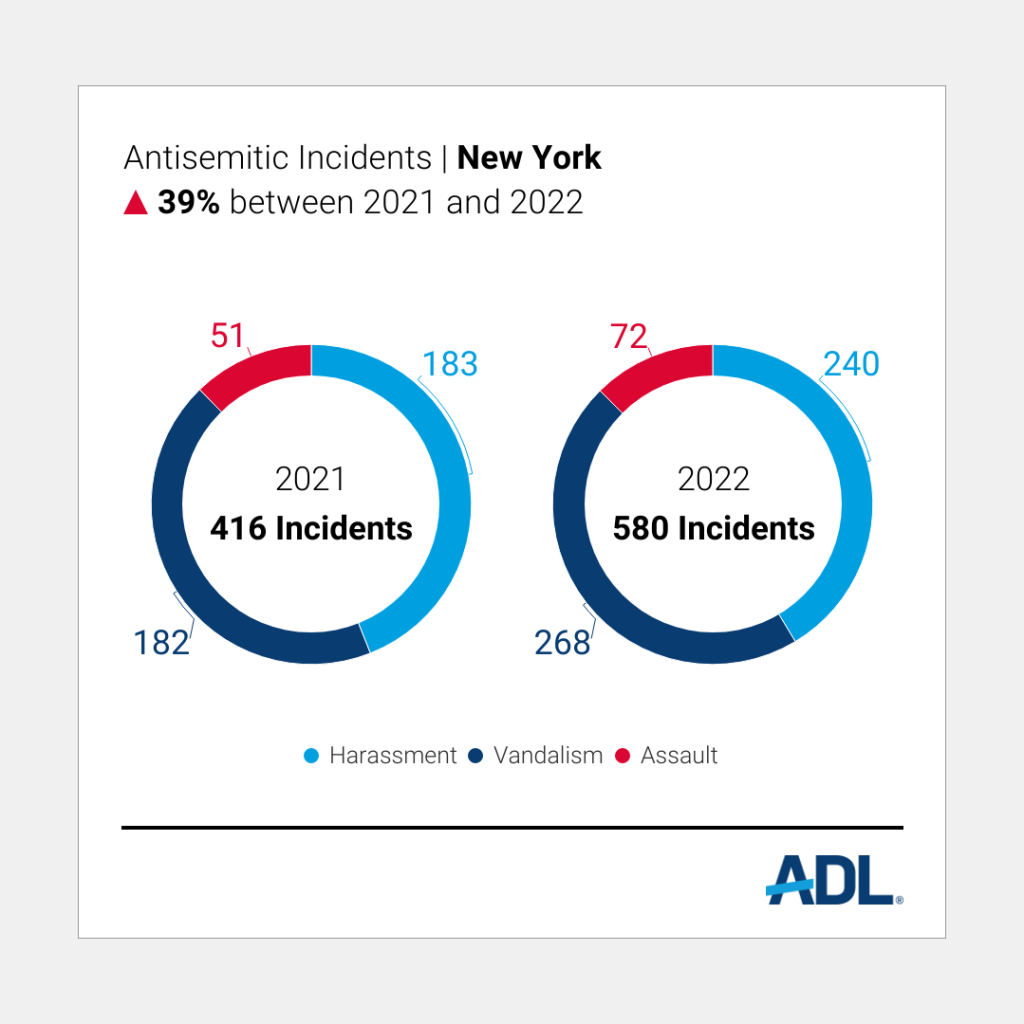 ADL (the Anti-Defamation League) today released new data showing that, in 2022, New York State once again had the most reported antisemitic incidents of any state across the nation. In 2022, ADL recorded a staggering 580 incidents in New York, which is a 39% increase relative to the 416 incidents reported in 2021. Incidents in New York alone accounted for 15.7% of all documented antisemitic incidents in the United States in 2022. 
ADL observed increases across all three categories tracked in the Audit of Antisemitic Incidents: harassment, vandalism and assault. Of particular concern were 72 reported incidents of antisemitic assault, which accounted for 65% of all antisemitic assaults reported nationwide in 2022. This is a 41% increase from the previous record of 51 antisemitic assaults recorded in New York in 2021. ADL also saw notable increases in reported incidents of antisemitic harassment and vandalism, particularly incidents involving swastikas. 
Nationwide, reported antisemitic incidents in 2022 reached an all-time high of 3,697 incidents, which represented a 36% increase compared to the 2,717 incidents recorded in 2021. 
"The findings of ADL's 2022 Audit of Antisemitic Incidents should serve as a wakeup call for everyone," said Scott Richman, ADL New York/New Jersey Regional Director. "We have hit another grim record with 580 reported antisemitic incidents recorded in New York State, including an appalling 72 assaults. All New Yorkers should be able to live without fear of harassment and violence. Antisemitism is a pervasive issue that requires a whole-of-society response. We call on all of our partners – in government, education institutions, interfaith organizations, law enforcement or elsewhere – to help confront antisemitism whenever and wherever it occurs." 
Major New York Findings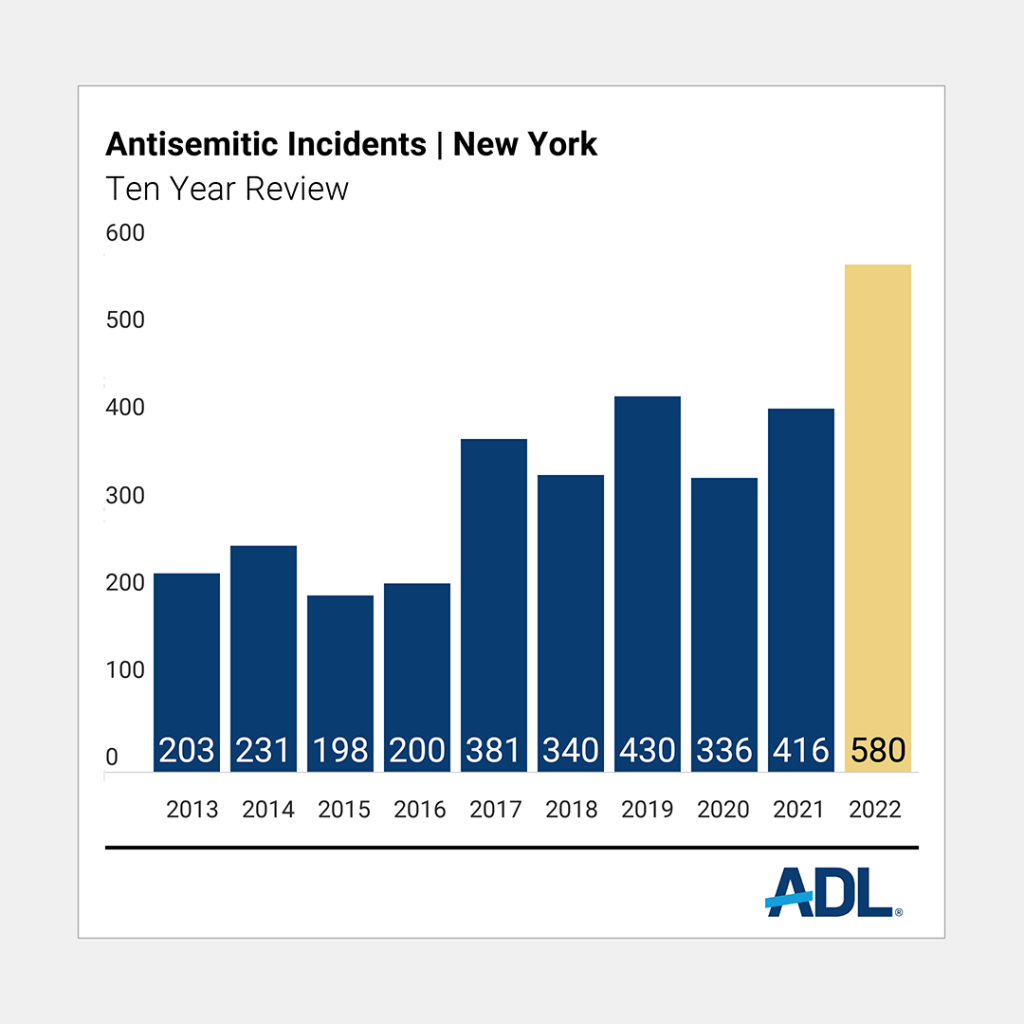 Since 1979, ADL has documented antisemitism through its annual Audit of Antisemitic Incidents.  
In 2022, ADL's Audit revealed 580 antisemitic incidents in New York State, as follows:  
240 incidents of harassment  

 

268 incidents of vandalism 

 

72 incidents of assault, the highest number of reported antisemitic assaults in New York State on record.

 
Of the 580 antisemitic incidents reported in New York in 2022, almost half (272) occurred in public places, 84 at Jewish institutions, 78 at private residences, 53 at non-Jewish K-12 institutions, and 43 at business establishments.  
Forty percent of all reported incidents involved the display of a Nazi swastika, which serves as the most significant and notorious symbol of antisemitism and white supremacy. These 233 incidents represented a 45% increase relative to the 161 incidents involving swastikas that were documented in 2021.  
A disproportionate number of reported antisemitic incidents – 191 – took place during Q4 (October, November, December) of 2022. In contrast, there were 134 reported incidents in Q1, 126 reported incidents in Q2 and 129 reported incidents in Q3. This puts Q4 32% above the average of 145 incidents per quarter. The number of recorded antisemitic assaults followed this trend as well, with 27 reported in Q4 compared to 14 reported in Q1, 14 reported in Q2, and 17 reported in Q3.  
Geographic Data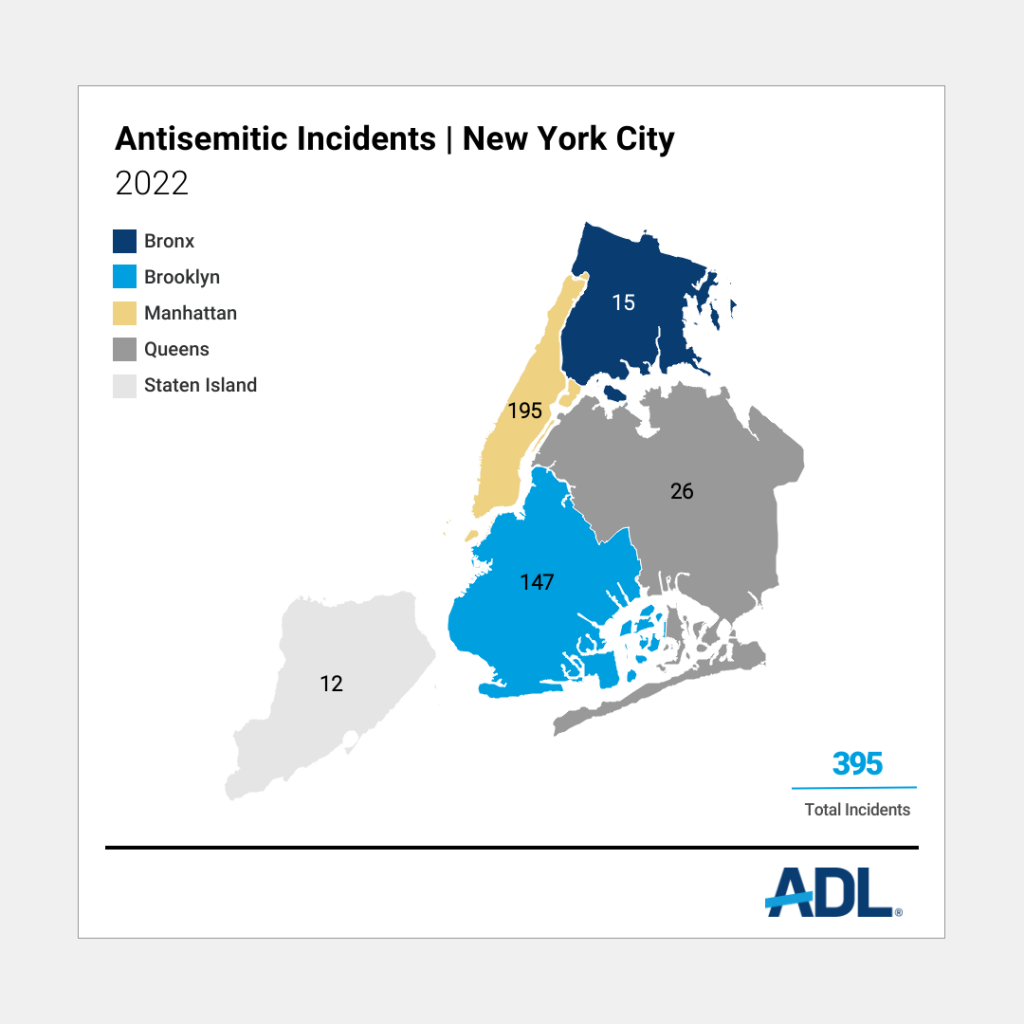 Of the total number of antisemitic incidents recorded across New York State, 68% took place in the five boroughs of New York City.  Of the 395 antisemitic incidents documented in New York City, 172 were incidents of vandalism and 157 were incidents of harassment. Sixty-six were incidents of assault, meaning that 92% of the 72 total reported antisemitic assaults in New York State took place in New York City.  
In one particularly alarming incident, two individuals threatened to "shoot up a synagogue and die." They were arrested in Penn Station carrying a firearm, hunting knife, ammunition and a Nazi armband. 
Reported antisemitic incidents in the five boroughs increased by 79% in Manhattan, increased by 75% in Brooklyn, decreased by 19% in Queens, decreased by 32% in the Bronx and decreased by 8% in Staten Island. The number of reported incidents on Long Island increased by 10%, while the number in Westchester County stayed the same. In Rockland County, the number of recorded antisemitic incidents nearly tripled, from 8 in 2021 to 23 in 2022. 
Antisemitic incidents by area:  
Manhattan: 195

 

Brooklyn:  147

 

Queens: 26

 

Bronx: 15

 

Staten Island: 12

 

Long Island: 76 [Nassau: 42; Suffolk: 34] 

 

Westchester: 23 

 

Rockland: 23

 

Remaining New York Counties: 63

 
During 2022, ADL tracked or responded to antisemitic incidents in 30 of the 62 counties in New York State, which is a slight decrease from 33 counties in 2021. 
Assaults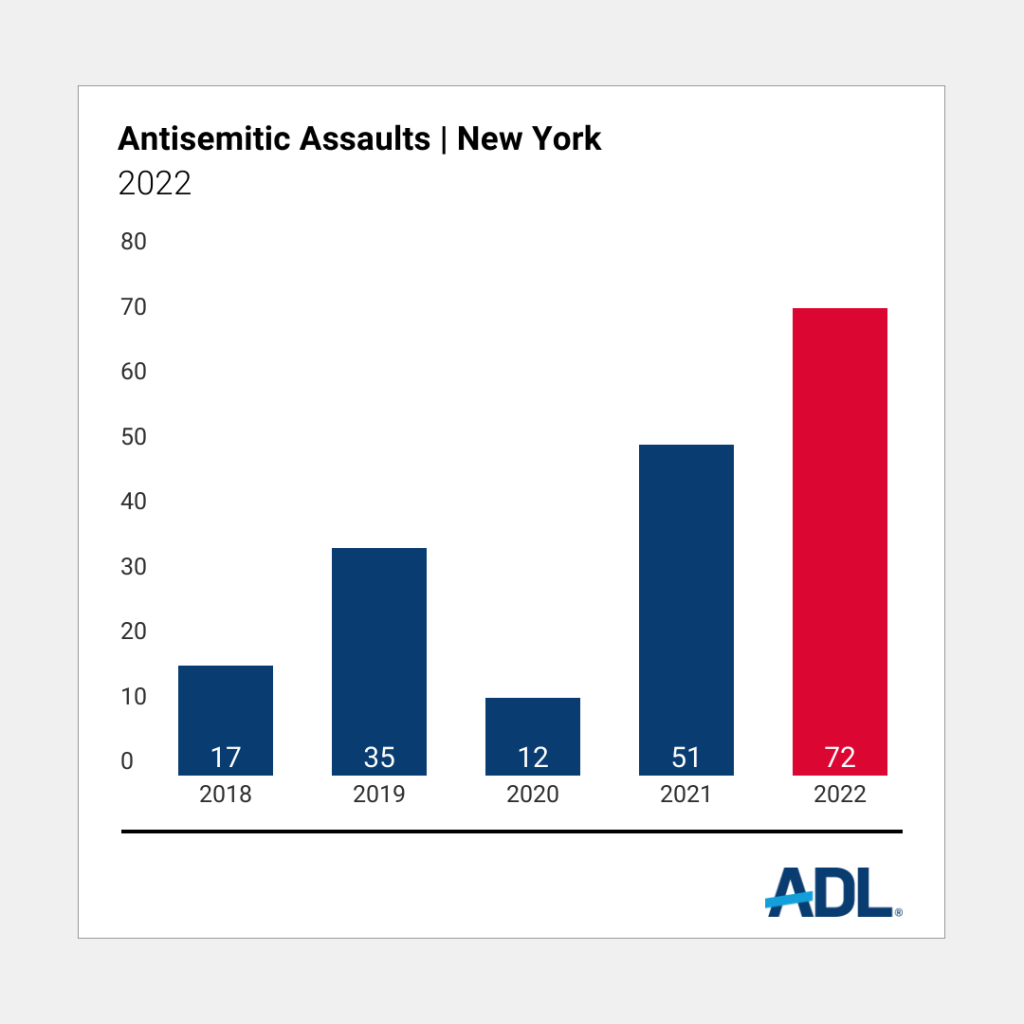 A shocking 72 antisemitic assaults were reported in New York State in 2022, which is the highest number on record and represents 65% of all assaults reported in the United States last year. Of these 72, 92% (66) took place in the five boroughs of New York City, and the vast majority (52) took place in Brooklyn, while 7 were documented in Manhattan, 4 in Queens, 3 on Staten Island and 0 in the Bronx. As previously mentioned, there was a disproportionately high number of assaults recorded during Q4 of 2022, with 27 incidents. Throughout the rest of the year, there were 14 recorded assaults in Q1, 14 in Q2, and 17 in Q3.  
The 72 incidents of antisemitic assault recorded in 2022 represented a 41% increase compared to 51 incidents in 2021. The volume of incidents is appalling, with an average of more than one assault per week. Fourteen of the incidents involved stealing or knocking off traditional religious head coverings (including hats, wigs, and yarmulkes). At least ten incidents of antisemitic assault targeted children or teenagers. Jewish individuals were punched, slapped, chased, targeted with fireworks, eggs, garbage and, in multiple cases, shot with BB guns. Examples of antisemitic assaults recorded in 2022 include:  
While yelling "Hey Jew," an individual shot a BB gun at a person in a highly populated Orthodox Jewish neighborhood. (March 2022; Brooklyn, NY)

 

A 13-year-old Jewish boy was chased by two teenagers who grabbed the boy's yarmulke off his head. (August 2022; Staten Island, NY)

 

An individual made antisemitic remarks, including "Kanye 2024." A short time later, he struck a Jewish person from behind on a bicycle, causing him to fall and suffer serious injuries. (December 2022; Manhattan, NY)

 
Incidents Targeting Orthodox Jews
In 2022, ADL documented a sharp increase in incidents targeting Orthodox Jews, both in New York and nationwide.  In New York, 46 out of the recorded 72 antisemitic assaults (64%) involved Orthodox Jews. The majority of those attacks took place in Brooklyn and Rockland County. In all we responded to 83 antisemitic incidents targeting Orthodox Jews throughout NY, 57 of which (69%) occurred in Brooklyn. 
These incidents included a series of extremely alarming BB-gun attacks across New York State. On Staten Island, a 7-year-old Hasidic boy and his father exiting a kosher supermarket were struck in the head and chest by a BB-gun pellet shot from a passing car. Further north, in Monsey, multiple Orthodox Jews, including in one instance a mother pushing a baby in a stroller, were assaulted with BB-pellets and eggs thrown by a group of suspects circling the area with a pickup truck. In the Monsey attack, the suspects are believed to have traveled to the area for the purpose of targeting Orthodox Jews. 
Another violent attack occurred in Williamsburg, Brooklyn, where a 74-year-old Hasidic Jewish man was chased down the street and doused with chemicals from a fire extinguisher. Minutes later, another Hasidic Jewish individual, a 66-year-old man, was also attacked with the extinguisher and punched in the face. 
Jewish Institutions
In 2022, 84 antisemitic incidents in New York were reported as having taken place in Jewish institutions – representing a 35% increase relative to the 62 incidents reported in 2021.  Jewish institutions include Jewish schools, community centers, synagogues and other locations. Within this category, reported acts of antisemitic harassment in particular increased by 78%, with 57 reported incidents of harassment in 2022 compared to 28 in 2021. In addition, 5 documented assaults took place at Jewish institutions. 
Nationally, 589 antisemitic incidents took place at Jewish institutions in 2022, an increase of 12% over the 524 incidents targeting Jewish institutions in 2021. In New York, almost half (40) of the 84 incidents documented at Jewish institutions took place at synagogues.  
Examples of incidents that took place at Jewish institutions in New York in 2022 include: 
An individual lit objects on fire and threw them at a synagogue (May 2022; Manhattan, NY)

 

5 Jewish institutions received threatening messages through the contact form on their website, including messages referencing Zyklon B tablets (September to November 2022)

 

An individual threatening to "burn down the building with Jewish little children in it" at a Jewish school (April 2022; Brooklyn, NY)

 

A security guard at a synagogue, as well as the synagogue's superintendent, were assaulted by an individual after they asked him to leave the premises. (September 2022; Manhattan, NY)

 
Bomb Threats 
In New York, there were 12 recorded antisemitic bomb threats in 2022. Ten of these were at Jewish Community Centers, one at a Holocaust Memorial Center and one at a Jewish university. Three of these specifically referenced the horrific shooting in Buffalo on May 14, 2022, where a white supremacist gunman opened fire at a supermarket and killed 10 people and injured 3 others. This appears to be part of a larger trend targeting Jewish institutions across the country. Last year, 91 bomb threats, which often included hateful, antisemitic language, were called or emailed to Jewish institutions or schools nationwide. The majority of the antisemitic bomb threats occurred in the spring of 2022, with another wave in late fall. It is unknown if these threats originated from the same perpetrators. 
Educational Institutions
K-12 Schools 
A total of 53 antisemitic incidents in New York in 2022 were recorded in K-12 schools (excluding Jewish schools). This number represented a 36% increase relative to the 39 incidents recorded in 2021. Antisemitic incidents in K-12 schools appear to have generally returned to pre-pandemic levels (by way of comparison, 43 such incidents were reported in 2019), which is a continuation of a disturbing trend of antisemitic incidents increasingly affecting youth.     
The majority of reported incidents in K-12 schools, 36, involved acts of vandalism, compared to 28 in 2021. Acts of harassment, at 17, represented an 89% increase relative to the 9 recorded in 2021. Of the 53 antisemitic incidents reported at non-Jewish K-12 schools, 42 (almost 80%) involved the use of a swastika. 
College Campuses 
In 2022, ADL recorded a troubling 35 antisemitic incidents on college campuses in New York. This is a stark increase from the 15 incidents that were reported in 2021, and reflects the largest increase since 2018, when ADL recorded 32 such incidents.  
In 2022, ADL recorded 22 incidents of harassment, up from 10 in 2021, 13 incidents of vandalism, up from 3 in 2021, and 3 incidents of offensive literature distribution, up from one in 2021, on college campuses. We did not record any incidents of assault this year after having one occur in 2021 on a college campus. Of the 13 acts of vandalisms ADL recorded on college campuses, 8 included swastikas. This marked an increase from the 2 incidents ADL observed in 2021. 
Notable Incidents 
At CUNY's Baruch College, a Jewish student was harassed in an elevator by someone yelling "Kanye and Hitler were right," one of many incidents sparked by the antisemitic statements of Kanye West in the fall. In December, an individual was observed yelling antisemitic and racial slurs at students at Queens College as they were entering campus. There were multiple antisemitic incidents involving swastikas that were reported at Ithaca College as well. 

 

"This rise in antisemitic incidents on college campuses in New York echoes a growing national trend. It is time for college administrators to take this trend seriously and tackle this head on," said Scott Richman, ADL Regional Director for New York and New Jersey.

 
Residences
In 2022, private residences were the site of a shocking 78 reported antisemitic incidents in New York, which represents a 123% increase relative to the 35 such incidents documented in 2021. Compared to the 5-year average of approximately 50 incidents per year, incidents in private residences increased by 60%. These incidents included the vandalism of homes with swastikas and the phrase "Kill all Jews," the tearing of mezuzot from doorposts, and the harassment of Jewish neighbors with antisemitic comments. 
Business Establishments
Last year, 43 antisemitic incidents were documented as having taken place at New York business establishments, an increase of 10% relative to the 39 incidents recorded in 2021. The businesses included medical facilities, office buildings, a Broadway theater, restaurants and more. There were 6 incidents reported at Jewish-owned businesses in 2022. 
More than half (24) of the antisemitic incidents reported at business establishments were vandalism incidents, and included incidents involving swastikas and expletives about Jews. Multiple businesses received antisemitic letters that contained Nazi propaganda. In addition, there was one documented antisemitic assault at a business establishment, in which an individual shouted antisemitic comments and pushed a person to the ground at a supermarket. 
Israel and Zionism Related Incidents
Of the 580 antisemitic incidents recorded in New York State in 2022, 26 included explicit references to Israel or Zionism (4.5%). This marked a 42% decrease relative to the 45 such incidents documented in 2021. This followed a national trend of a decrease in incidents related to Israel and Zionism, with 241 incidents nationwide in 2022 compared to 345 in 2021. In May 2021, during the Israel-Hamas conflict, ADL documented an unusually high number of antisemitic incidents, both nationally and in New York State. These numbers reflect the way that global events directly impact everyday life in New York. 
References to Israel and Zionism were found across all three categories tracked by ADL's Audit of Antisemitic Incidents: harassment, vandalism and assault. In one particularly violent incident, an individual assaulted a counter-protestor who was carrying an Israeli flag near a pro-Palestinian demonstration in April. That individual was recently sentenced to 18 months on federal hate crime charges. 
Extremist Activity
White supremacist groups continued to maintain an active presence in New York in 2022, using propaganda to communicate their hateful messages more broadly and to recruit new members. In 2022, ADL documented 123 distribution incidents in New York State. Of these, 33 involved propaganda that contained overtly antisemitic statements or imagery – though the potential for all types of white supremacist propaganda to provoke fear and anxiety in Jewish communities should not be discounted. 
In 2022, 17 of the 33 antisemitic white supremacist propaganda distributions had connections to one network, the Goyim Defense League (GDL). GDL is a relatively small network of extremists with the goal of spreading antisemitic myths and conspiracy theories. In one instance, individuals associated with the GDL dropped a banner over the Bronx River Parkway which read, "Kanye is Right About the Jews!"  
Underreporting
Underreporting continues to be a challenge in many communities, as victims of bias crimes and antisemitic incidents – particularly those in marginalized communities – face significant barriers to reporting in the first instance. ADL continues to work with elected officials, law enforcement leaders and community members across New York to tackle these problems head-on. In 2022, ADL received reports from only 30 of 62 counties across the state. ADL encourages all members of the public to report incidents of antisemitism directly to ADL here: adl.org/reportincident 
Methodology
The ADL Audit includes both criminal and non-criminal acts of harassment and intimidation, including distribution of hate propaganda, threats and slurs, as well as vandalism and assault. Compiled using information provided by victims, law enforcement and community leaders, and evaluated by ADL's professional staff, the Audit provides a regular snapshot of one specific aspect of a nationwide problem while identifying possible trends or changes in the types of activity reported. This information assists ADL in developing and enhancing its programs to counter and prevent the spread of antisemitism and other forms of bigotry.         
The complete dataset for antisemitic incidents for 2016-2022 is available on ADL's H.E.A.T. Map, an interactive online tool that allows users to geographically chart antisemitic incidents and extremist activity.  
The Audit offers a snapshot of one of the ways American Jews encounter antisemitism, but a full understanding of antisemitism in the U.S. requires other forms of analysis as well, including public opinion polling, assessments of online antisemitism and examinations of extremist activity, all of which ADL offers in other reports, such as the ADL Survey of American Attitudes Toward Jews, Survey on Jewish Americans' Experiences with Antisemitism, ADL Global 100, Online Hate and Harassment: The American Experience, Murder and Extremism and White Supremacist Propaganda.    
ADL is the leading anti-hate organization in the world. Founded in 1913, its timeless mission is "to stop the defamation of the Jewish people and to secure justice and fair treatment to all." Today, ADL continues to fight all forms of antisemitism and bias, using innovation and partnerships to drive impact. A global leader in combating antisemitism, countering extremism and battling bigotry wherever and whenever it happens, ADL works to protect democracy and ensure a just and inclusive society for all. More at www.adl.org.