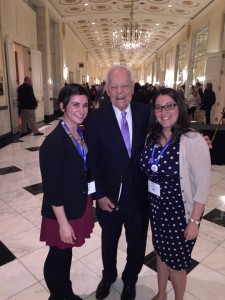 A blog by Brooke Feldman, 2015 National Leadership Summit Participant and Glass Leader:
A week ago, I was sitting on a train, on my way to Washington D.C. to attend my first ADL Summit. As a Glass Leadership Institute participant, I was prepped with information on what the Summit brings to a young professional like myself and how it will be an emotional and educational experience. What I learned in three days was a further understanding about the ADL's stance on specific issues going on in the U.S. and abroad, but what I really came away with was a better understanding of why I got invovled with the ADL.
My colleagues and I walked into the Mayflower Hotel with open ears and determined minds. We listening during breakfast, lunch and dinner to distinguished speakers, leaders in their field, express opinions and shed light on topics such as Israel, Iran, civil rights, education, and sportsmanship. Through the last 11 months, the Glass Leaders spend time understanding not only who the ADL is, but what they do on a daily basis. What was interesting about these speakers was learning about their admiration for the ADL and Abraham Foxman and seeing how the work pays off.
The breakout sessions were tailored to help us learn more about specific issues the ADL has a stance on and allowed us sit in on discussions we are interested in. I spent most of my time listening about what anti-Semitism is and means, and how groups are working to improve schools, end bullying and provide equal education for all children. What I enjoyed most about the breakout sessions was the conversations that followed them. I walked the halls of the Mayflower and the streets of D.C. speaking to colleagues about what they learned and saw. It was a fascinating experience to be able to discuss these topics around each other, sparking debates and forming opinions with the people around me who could be the change makers members of the ADL.
That's what this Summit was all about. I pondered a lot about what I might take away from the three days. The bonding with my colleagues – I consider my friends now, and the opportunity to find out more about myself, has made me proud to be an active member of the ADL. I'm looking forward to educating others about the ADL's mission and work. The Summit and the Glass Leadership Institute has given me the stepping stones to start my journey to create a world without hate.